Stir up the adrenaline in the largest Outdoor Center in Italy!
Rafting and outdoor in Val di Sole, Italy at Trentino Wild Rafting Center
Be Wild, be Happy!

Live an unforgettable experience and come to run the rapids of our Noce River!

In Val di Sole, in the heart of the Dolomites, we have everything you need to return wild!

Discover Rafting

So big that it looks like a world :)

Three spots, only one soul: Dimaro, Croviana and Caldes, make Trentino Wild the largest Rafting Center in Italy

Adrenaline activities in the river or suspended in the trees, team sports, camping or simply a tasty sandwich, are are just a few samples of our 100,000 m2.

Our bases

Sleep,

but under the stars!

At Trentino Wild you can count in the millions

Here in the mountains of Trentino it's really like that, uncontaminated nature and clear skies.

You only have to choose between our camping places or tent area, or to decide to go to our affiliated hotel with spa, or B&B, Agritourisms and Garnì.

Accommodations
Most popular
What awaits you is a battle of paint and laughter.

When you close the gates of the Paintball Arena the fun is guaranteed and the rainbow challenge begins.
A competition field for families, business colleagues or simply old friends who want to challenge each other at the last shot.

If you still do not have a strategy of "war" we recommend you to hurry, the "enemies" are armed to the teeth and said that they will not take prisoners!

Discover Paintball

More than 70 games and suspended paths in the trees will make you feel Tarzan or Mowgli!

We will challenge you on suspended stairs, Tibetan bridges, lianas, ziplines with our usual safety.

To each his height and difficulty, but that no one is missing: balance, courage and desire to have fun! Fasten your helmet well and hold on tight, you will climb higher and higher.

Adventure park

only we have such a river. :)

Have you ever tried the unique experience of navigating the rapids of a river?

Rafting is adrenaline, adventure and fun ... in total safety!

Whether you are organizing your best friend's bachelor party, or if you want to spend a weekend of adventure with your family or your volleyball team, the Noce river is the right place for you!

Try Rafting
Our bases
Wild
Pirates
Fore! What a team!
It is said that a group of pioneers, united by a passion for adventure and strong emotions, decided to challenge the river that no one had ever had the audacity to ride. The local people thought they were crazy. But with a rubber boat and so much courage they dived into its fast waters, managing every rapid of the wild Noce River.
Who we are
WILD K

I
D
S
Young pirates grow up.
Bye mom, I'll see you later, you go on the rapids and I'll climb this tree! Don't worry, your children are in expert hands, with our staff they will learn really fun and stimulating things.
So no one can say they're bored.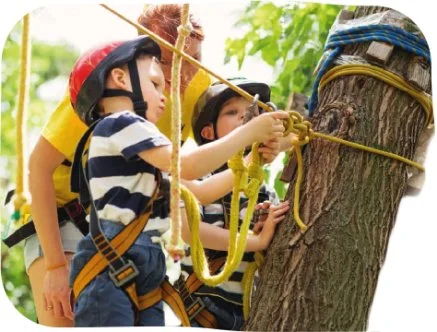 Accommodations
That's wild! 

For you who know what adventure is, who know stories of witches and wolves and who love to feel like explorers of nature, we have reserved a tent place!

Surely this is the best way to live in direct contact with the energy of the Dolomites.

And rediscover the WILD part inside of you.

Camping

Where are you parking this weekend?

People of vagrants, campers from all over Europe unite!

If you've never slept along a stream before, the time has come to do so, the experience is unique. But be sure to close the door and don't leave food on the tables, the bears in the area are known to be very greedy.
You can choose between two camper areas: one in Dimaro and one in Caldes.

Motorhome parking

Even the "Wild" has a comfort side.

If you are looking for an accommodation with all the comforts ... you have found the right one for you!

Choose the one you prefer and enjoy the relax because tomorrow... we start again!

By now we have given you everything, take this too.

Camping Village
GIVE A WILD BOX
From 22€. Now that's an idea!
If you are thinking about a gift to a friend, a couple or just want to bring your love to us, then do it with a WILD BOX, you will certainly like it!
By now you know it, the ingredients are: adventure, sport and fun, but don't worry, if you have any ideas, we are here to make it happen!
The latest reviews
Reviews provided by:

Anonymous author
September 2022
Fantastica! E super divertente
Anonymous author
September 2022
Interessante, divertente. Personale disponibile e gentile