Bubble football
Royal Rumble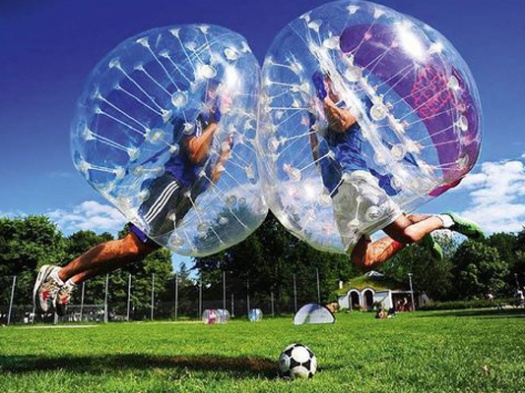 Two teams engage in an epic match in which no quarter is given.
With the protection of the bubble balls, the teams challenge each other in an unforgettable match with fun in abundance as the adversaries trade blows.
The game lasts around an hour and a half, with another half hour of initial briefing and explanations of the rules of combat.
A minimum of 6 and maximum of 16 players are divided into two teams. The game is monitored by a referee who guarantees that the rules are obeyed. 
After the bubble football match, you can take a shower in our comfortable dressing rooms, sip an aperitif in the Paint Bar or enjoy a barbecue in the areas placed at your disposal free of charge by the centre.
How does bubble football works?
meeting in reception at the time established during the booking, for registration and payments
transfer (by yourself) to the archery area 
practical lesson 
beginning of the play!
BUBBLE FOOTBALL EQUIPMENT PROVIDED BY THE ORGANIZATION:
bubble football - inflatable balls

field and ball
CLOTHING TO BRING FOR BUBBLE FOOTBALL
clothing suitable for the season

spare parts and shower necessary at the end of the activity
Information
Recommended period: from April to October
Suitable for: all, from 14 years
You might be interested also in: