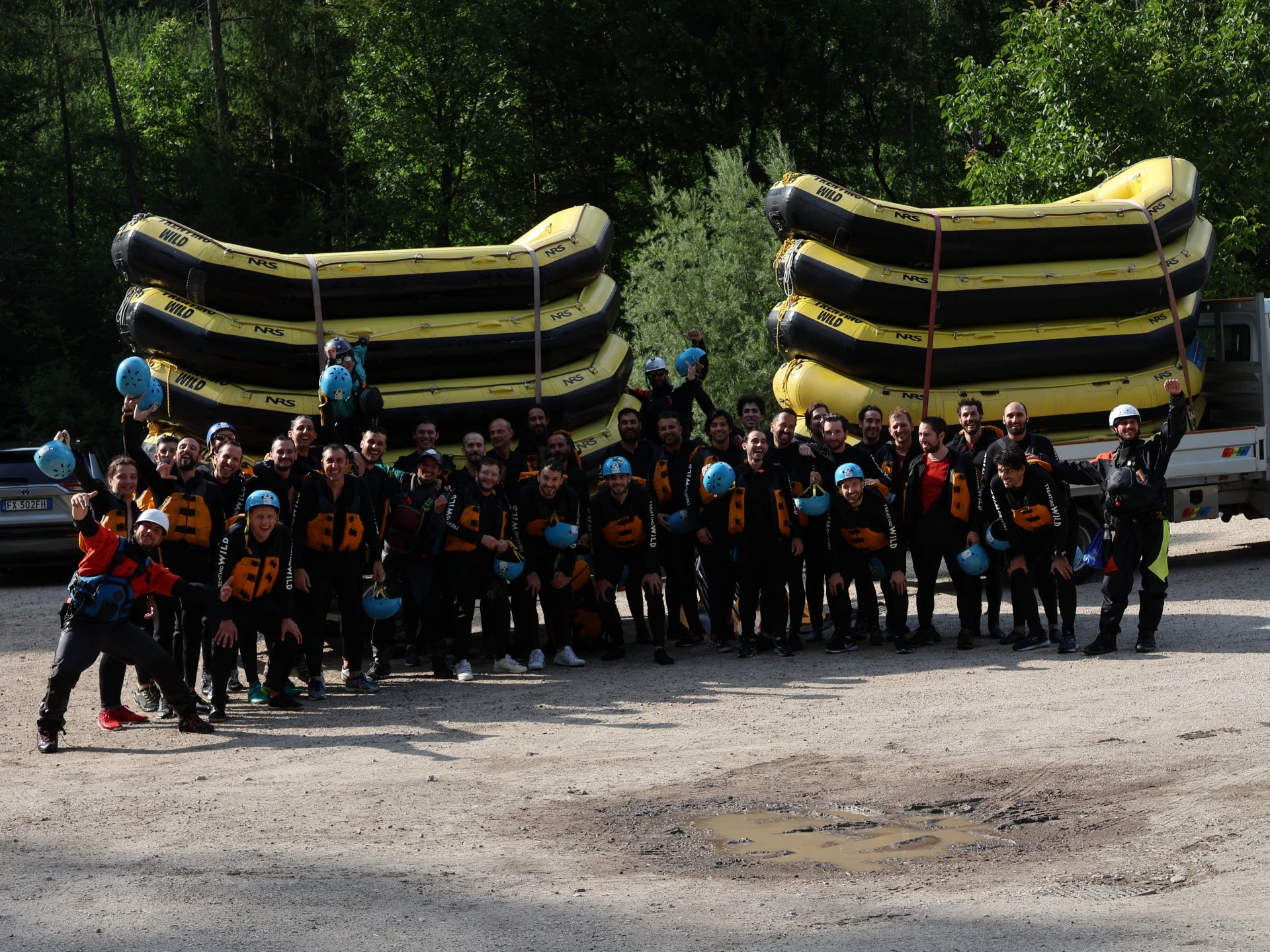 Corporate team building for all tastes in Trentino. Outdoor Training certainly represents one of the most effective and efficient ways among the new training possibilities of Corporate Team Building.

For this reason Trentino Wild organizes outdoor training seminars in the Brenta Dolomites in Trentino, taking advantage of the moments of action of sporting activities for team building. Team building activities and corporate incentives carried out by professionals who have been working in the outdoors for over 40 years.

We have collaborated in our many years of activity with many companies such as Ferrero, Volvo, Adecco, Tecnocasa, Vodafone, Danone and numerous other smaller companies.


Team building in Val di Sole, Trentino:
What you need to know before the experience
Every year many organizations rely on Trentino Wild Rafting Center & outdoor to try to make their collaborators grow through innovative, more effective and emotional methodologies, through experiential training; the most suitable training method for adult learning.

Rafting, canyoning, climbing, via ferrata, mountain bike excursions, orienteering, cooking in a hut, survival, adventure park, paintball, are just some of the activities on offer. The Center and its organization is constantly looking for the right activity to be able to make your teams perform at their best. For this, availability is complete, in the face of any of your requests after having carried out a careful analysis of the technical feasibility and safety conditions on which we do not derogate.

In every period, winter and summer, spring and autumn, the training courses are carried out in nature and in the open air and are developed throughout the year. The participants, meeting outside the consolidated and rigid roles and organizational contexts, live an emotionally engaging learning experience, facing new and often unexpected activities and situations.

Almost all the adult learning theories most used in corporate training highlight how, without adequate anchoring in people's real lives, true, sufficient and persistent learning cannot be achieved. With outdoor training, outdoor experiences are accompanied by moments of reflection in the classroom to reflect on lived experiences, thus developing target skills and the ability to learn from experience, to build and improve group relationships and work on team building corporate.
The Rafting Center and Outdoor Trentino Wild has two meeting rooms (one at the Dimaro headquarters and one at the Caldes headquarters) where corporate team building activities can be carried out, thanks to a classroom equipped with a video projector, DVD player, Wifi network and Multimedia Whiteboard.

The Val di Sole Trentino Wild Rafting Center has thirty years of experience in organizing outdoor activities and extreme sports in Trentino. Safety and quality of services are always in first place. Trentino Wild is close to the world of training: the organization is an accredited center for safety training in the workplace (Legislative Decree 81/08), an accredited structure for training in BLS and BLS-D courses and a training center to the river and alluvial Rescue Project. Training and continuous updating are the musts of the company's work!

The staff includes qualified personnel for the development of specific Team Building proposals and needs analysis.

Ask for a quote and additional information!!