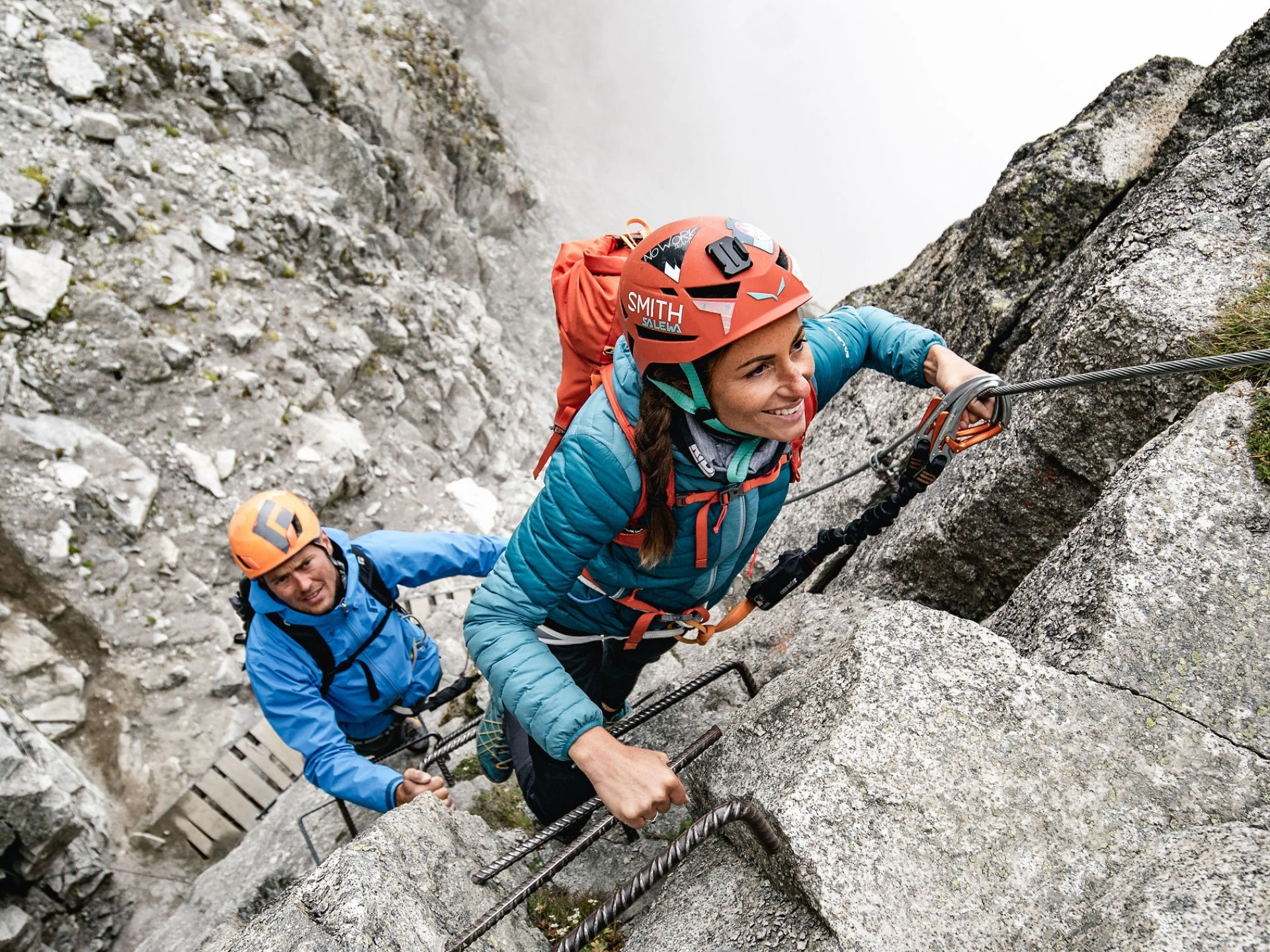 Vie ferrate in Trentino: where only eagles dare!
The first via ferrata was constructed in 1869 on the south-western ridge of the Großglockner, Austria, but between the end of the 19th century and the First World War, many Alpine Clubs created via ferratas with increasingly daring routes.
However, it was especially during the Great War that there was a great impetus for the creation of ferratas, used by soldiers to reach outposts on the peaks of the Alpine chain.

Between the 1930s and 1940s, it was built by the (SAT) Società Alpinisti Tridentini, nelle Dolomiti di Brenta, il monumentale Sentiero delle Bocchette di Brenta, a spectacular via ferrata that allows you to discover that group of mountains without ever reaching any of the peaks, a feature that had characterised all via ferratas until then.
An interweaving of mountains, nature, history and culture... offering the magic of exploring environments rich in emotion and the fruit of our mountain past.


Vie Ferrate in the Dolomites in Val di Sole, Trentino:
What you need to know before the experience
Vie ferrate in the Dolomites: to experience the mountains from a different perspective!
A route equipped with metal cables, ladders and other fixed anchors that allow you to explore verticality in a new way in total safety accompanied by our Alpine Guides!
WHAT TO BRING FROM HOME:
Comfortable layered clothing;
Trekking boots (avoid trainers);
Backpack;
Mini first aid;
Sun cream and hat;
Water bottle;
EQUIPMENT PROVIDED:
Approved helmet;
Special harness;
carabiners and ropes;
There are various levels of difficulty of Vie Ferrate from the easiest for beginners to the most difficult for real experts - Any sports person can do a via ferrata, always accompanied by an experienced Alpine Guide.
The Wild Trentino Val di Sole has over 40 years' experience in organising outdoor activities and extreme sports in Trentino Alto Adige. The Safety and quality always come first.
The activity is dependent on weather conditions; in the event of bad weather, our mountain guide will assess whether to confirm the outing.
From April to September - depending on the type of via ferrata chosen.
Frequently Asked Questions - Vie Ferrate in the Dolomites
The Italian classification is based on five values that take into account the overall difficulty of the route:
F (easy), PD (slightly/moderately difficult), D (difficult), TD (very difficult) ed ED (extremely difficult).