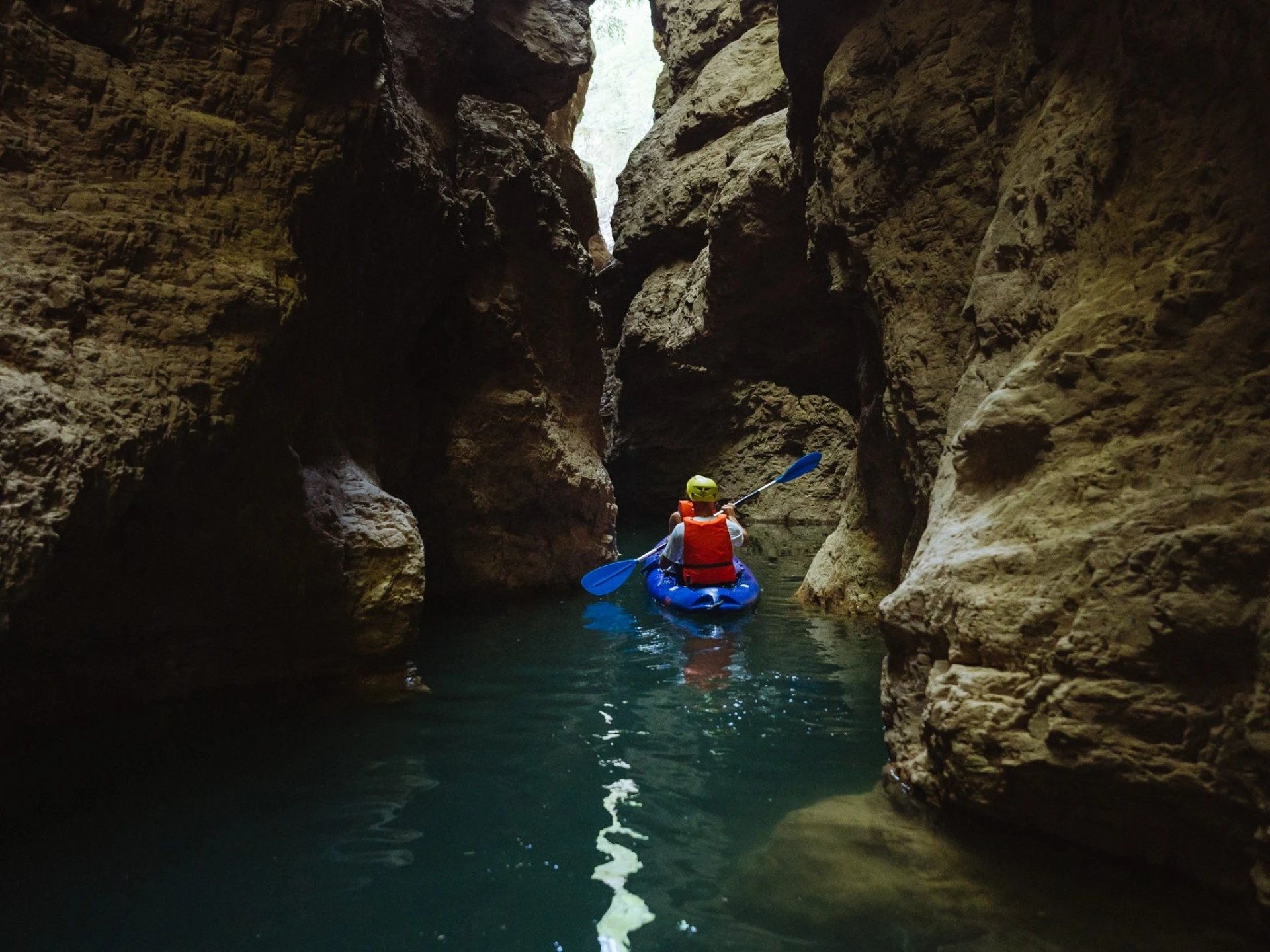 A Canyon of Emotions is waiting for you!
Kayaking on the Rio Novella in Trentino is an unforgettable and exciting experience: you will navigate the waters of this fascinating river and discover the natural beauty of the area. The Rio Novella is located in the Val di Sole, a spectacular mountain valley in the Trentino-Alto Adige region of Italy. During the kayaking activity on the Rio Novella, you will be provided with a kayak specially designed to tackle the waters of the river and navigate the enchanting gorges of the Canyon.

WHAT IS INCLUDED:
Bus transport;
Trekking 10 minutes;
Tasting of typical products and samples offered by Trentino WILD;
Unexpected landscapes in pristine surroundings;
A visit to the Rio Novella canyon, a gorge that can only be reached by kayak or canoe;
100% safety, professionals and certified equipment;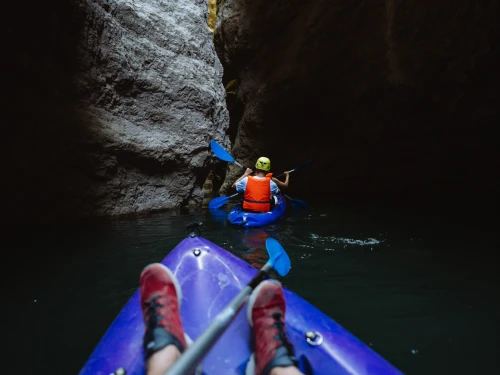 Immerse yourself in nature!
Guided canoe trip through the fascinating and wild gorges of the Rio Novella. An experience particularly suitable for families and couples. Activity accessible to all.
The round will be composed as follows:
bus transport to Cles, 10-minute walk on
...
Suitable for
family, children, teenagers, teambuilding, groups


Kayaking in the Rio Novella Canyons in Val di Sole, Trentino:
What you need to know before the experience
Cruise through enchanting gorges and enjoy breathtaking landscapes in the beautiful Lake St Justina.
A 10-minute walk through the woods will get you in tune with the magical environment of Lake Santa Giustina. You will arrive at a small beach where you will board the motor boat that will take you to the kayak starting platform. After a little theory lesson with our certified instructors, set off towards the canyons with kayaks.
You will visit an unexplored gorge, formed over thousands of years by the running stream that stands imposing and silent before your eyes!
After exploring the impressive canyon, we return to the base accompanied by the breathtaking backdrop of Castel Cles and the fantastic Brenta Dolomites. On the way back, there will also be a small break with samples of typical Trentino products.
WHAT TO BRING FROM HOME:
Swimming suit (better shorts)
T-shirt or microfleece depending on the temperature;
Sneakers that can be wet;
A snack and something to drink in a small backpack;
A change of spare clothing
EQUIPMENT PROVIDED:
Double kayak;
Approved lifejacket;
Homologated helmet;
Paddle;
No specific requirements, just a great desire to explore and have a truly unique experience! Children more than 5 years old accompanied by a parent.
Our Rafting Center Val di Sole has over 40 years of experience in organizing outdoor activities and extreme sports in Trentino Alto Adige. Our instructors are experienced and trained guides: safety is guaranteed throughout the entire kayaking activity.
The activity will take place even if it rains!
You can rent a GoPro Action Cam to film your experience directly in action All you have to do is leave an ID and buy the SD card at our office, which will then remain your property. The rental of the action cam is only valid after purchase of the SD card.
Photographs will be taken during the activity, an extra paid service (15€ package) that you can decide whether to purchase, once you receive the link to the preview, a couple of days after the activity.
Frequently Asked Questions - Kayaking in the Rio Novella Canyons
The kayaking activity on the Rio Novella in Trentino is an exciting experience that allows you to navigate, with a specially designed kayak, the waters of a fascinating river and discover the natural beauty of the area. It is suitable for anyone who is interested in venturing onto the waters, whether you are already experienced or not.
Yes of course! The canoes used are called sit on top, they are very stable, open and 2-seater canoes, specifically designed to be used even by people with no experience.
Yes! Children aged 5 and more can kayak, when accompanied by a parent.
Between 3 and 4 hours (half a day).
We have two time slots available: at9:00 or at 14:00.
It is important to take part in the activity accompanied by expert guides or qualified instructors that know the land well and can guarantee your safety throughout the activity, just like our Trentino Wild guides.
Rio Novella offers a variety of kayaking routes suitable for different skill levels, from beginner to expert. You can tackle thrilling rapids, navigate enchanting gorges, and enjoy breathtaking scenery along the way. Our experienced instructors will be there to guide you and make sure you have a safe and fun time navigating.
Trentino Wild offers two possibilities:
meeting point at our base in Dimaro: our van will be ready to take you to the Cles info point, where you can pick up your equipment and set off on an adventure!
meeting at the Trentino Wild Info Point in Cles meeting at the reception and, upon arrival of the bus from Dimaro, all ready to reach the lake!