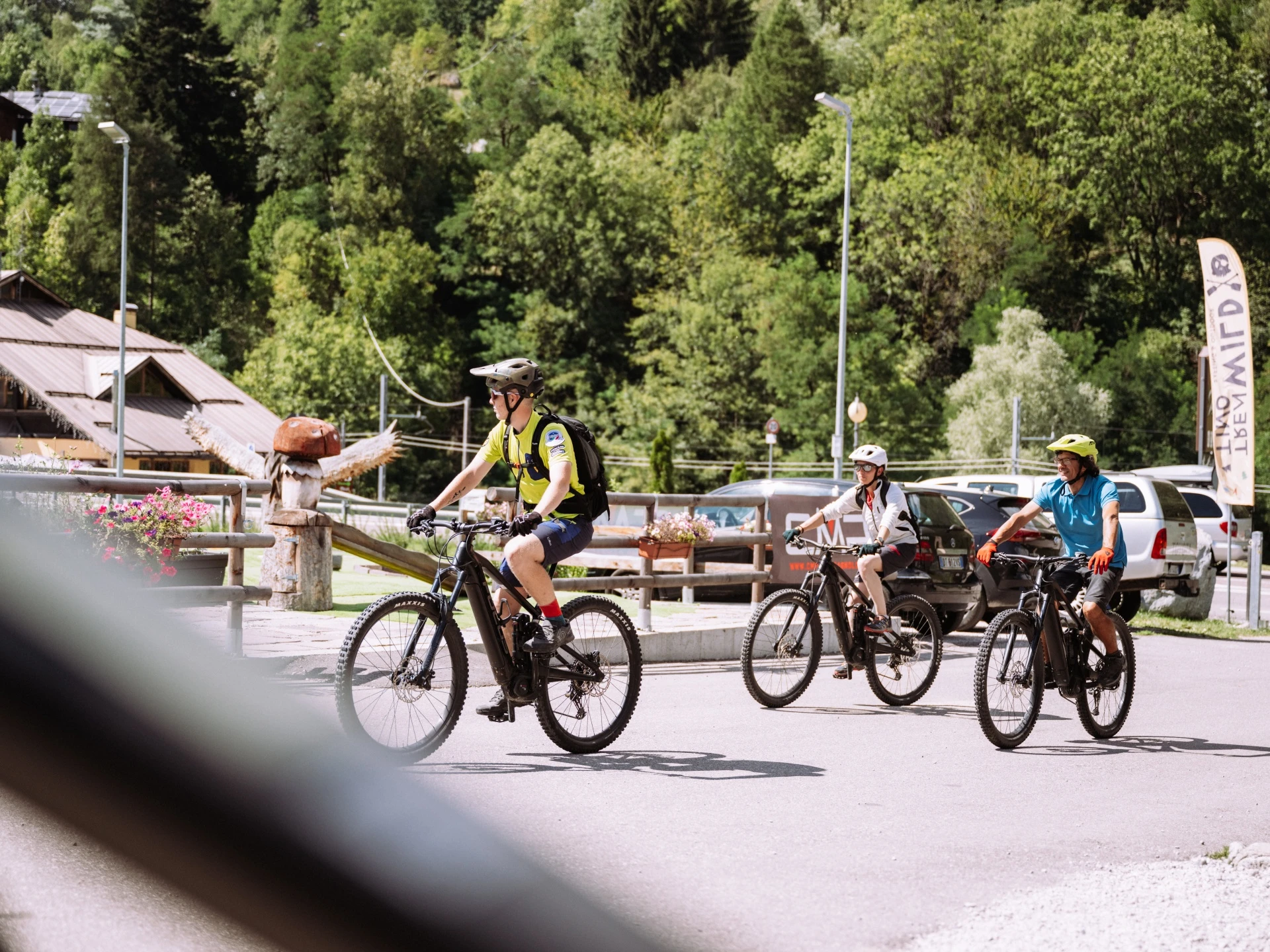 Il piacere della scoperta della nostra valle in sella a una MTB
MTB activity that includes the bike rental + instructor service, for a truly unforgettable cycle path on the Val di Sole! Stages of cultural interest will be the icing on the cak
Suitable for
family, children, teenagers, groups
Period
Da aprile a settembre.
Book now!
Tour + E-MTB 24" bambino
(altezza fino 135cm)
35.00€
Tour + MTB Front XS
(per altezza < 160 cm)
30.00€
Tour + MTB Front S
(per altezza < 165 cm)
30.00€
Tour + MTB Front M
(per altezza < 175 cm)
30.00€
Tour + MTB Front L
(per altezza > 175 cm)
30.00€
Choose date and time
Next departures
Below are the next free rounds where you can go on an adventure! I'm searching...
Ritrovo presso il Trek & Bike di TrentinoWild a Dimaro;
briefing e spiegazione per l'utilizzo delle bici;
Alla scoperta della ciclabile della Val di Sole
> Cosa portare da casa:
abbigliamento sportivo comodo per pedalare;
un'impermeabile;
uno zainetto con acqua e uno snack.
> Attrezzatura fornita per l'attività:
E-bike (varie tipologie a scelta)
Casco
Sotto casco monouso
Dai 6 anni in su con un minimo di capacità tecniche.
Trentino Wild, il centro outdoor più grande in Italia, con le sue sedi di Dimaro, Croviana e Caldes ha un'esperienza di oltre 40 anni nell'organizzazione di attività di outdoor e sport estremi in Trentino. La sicurezza per noi viene sempre al primo posto. Ogni bicicletta è revisionata ed igienizzata dopo ogni utilizzo, in fase di attività e/o noleggio è prevista la fornitura del casco protettivo e per gli itinerari più ingaggianti le protezioni personali.
L'attività è confermata in caso di pioggia leggera.
Other activities that may interest you