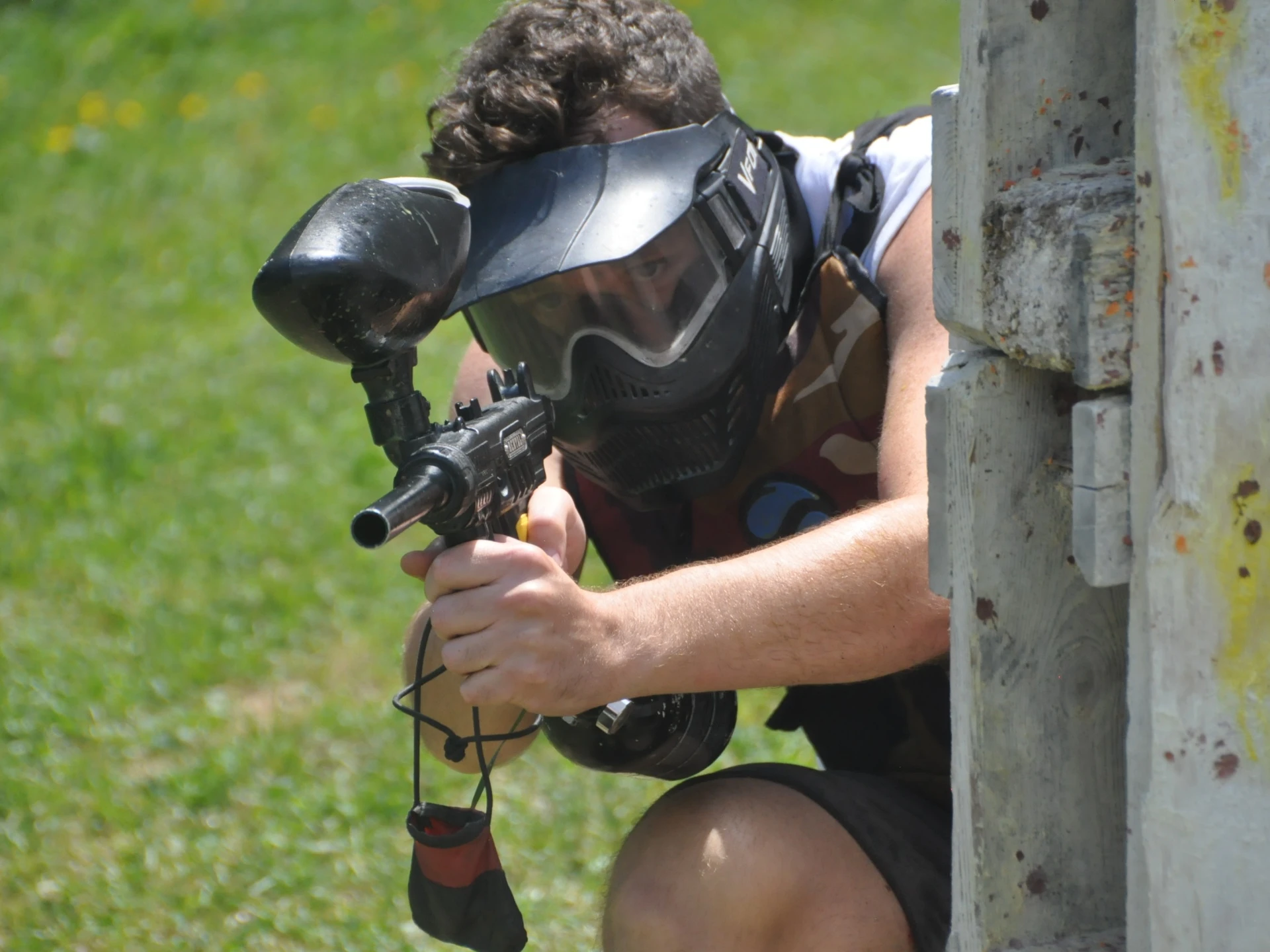 A battle of colors!
Paintball is a new and adrenaline-filled sport and very fun that you can practice in one of our two playgrounds in Caldes and Croviana in the beautiful Val di Sole in Trentino. It is practiced with markers that use compressed air to shoot gelatin capsules filled with biodegradable and non-toxic colored paint. These capsules break on impact marking the opponent and eliminating him/her either for a pre-set time or until the start of the next match depending on the match mode.


Paintball in Val di Sole, Trentino:
What you need to know before the experience
Completely outdoor courts, surrounded by nature, in an area specifically designed for this magnificent sport!
Paintball is a team game, suitable for children, families, stag/hen parties , or simply groups of friends with a great desire to have fun.
For this we have three different marker types, for children, teenagers and adults.
The rules of the game are at the discretion of our outdoor player who will act as referee and will explain various game modes to you, the only sure thing is that at the end of the game you will be happy and colourful!
Near each paintball field, a refreshment point will allow you to catch your breath after the game: in Croviana, at the Paint Bar or in Caldes at the Wild Bar.
WHAT TO BRING FROM HOME:
Long-sleeved sportswear and long trousers that can get dirty;
Comfortable shoes with good soles suitable for running;
Everything you need to take a shower at the end of the activity;
EQUIPMENT PROVIDED:
Protective mask;
Harness and neck protection;
Markers and Pellets;
Do you get hurt playing paintball? If you follow the instructions of our outdoorsman everything goes smoothly.
Markers use compressed air to shoot gelatine capsules filled with coloured paint. On impact, the capsules break, hitting the opponent but causing no pain, only colour. It is only recommended not to shoot yourself when you are too close.
The activity is guaranteed even in the event of light rainfall, in fact it is more fun! In the event of a thunderstorm, the activity will be suspended and possibly rescheduled.
You can rent a GoPro Action Cam for free to film your experience directly in action. All you have to do is leave an ID and buy the SD card at our offices, which will then remain your property. Rental of the Action Cam is only valid upon purchase of the SD card.
Frequently Asked Questions - Paintball
The price starts at € 25.00 per person for approximately one hour of activity. This can vary depending on the purchase of additional ammunition and if you wish to reserve the field.
Yes, children also play and have a lot of fun. We provide special depowered equipment as a supply. Suitable for all children from 6-7 years of age.
The duration of the activity is one 1 hour in total, on request also 2 hours of pure fun.
If you run out of shots before the end of the game ...NO PROBLEM... there is the possibility of buying them during the game and paying for them at the end of the game.
The price of any additional paintball refills is 20 euros for 450 shots, 35 euros for 1000 shots and 60 euros for 2000 shots.
When playing paintball, when you are hit by paintball pellets, your clothing can get dirty, the colour inside the pellets is washable, so with a simple machine wash everything will be as before. Rather, it is important to consider that, playing in an outdoor field, one can get dirty with dirt or grass. For this reason, we recommend simple, cheap clothes (always long sleeves and trousers!).
There is the possibility of reserving the camp at an additional cost of € 5.00 per person. In order to reserve the camp, there must be at least 10 participants.
WARNING: This must be communicated in good time when booking.