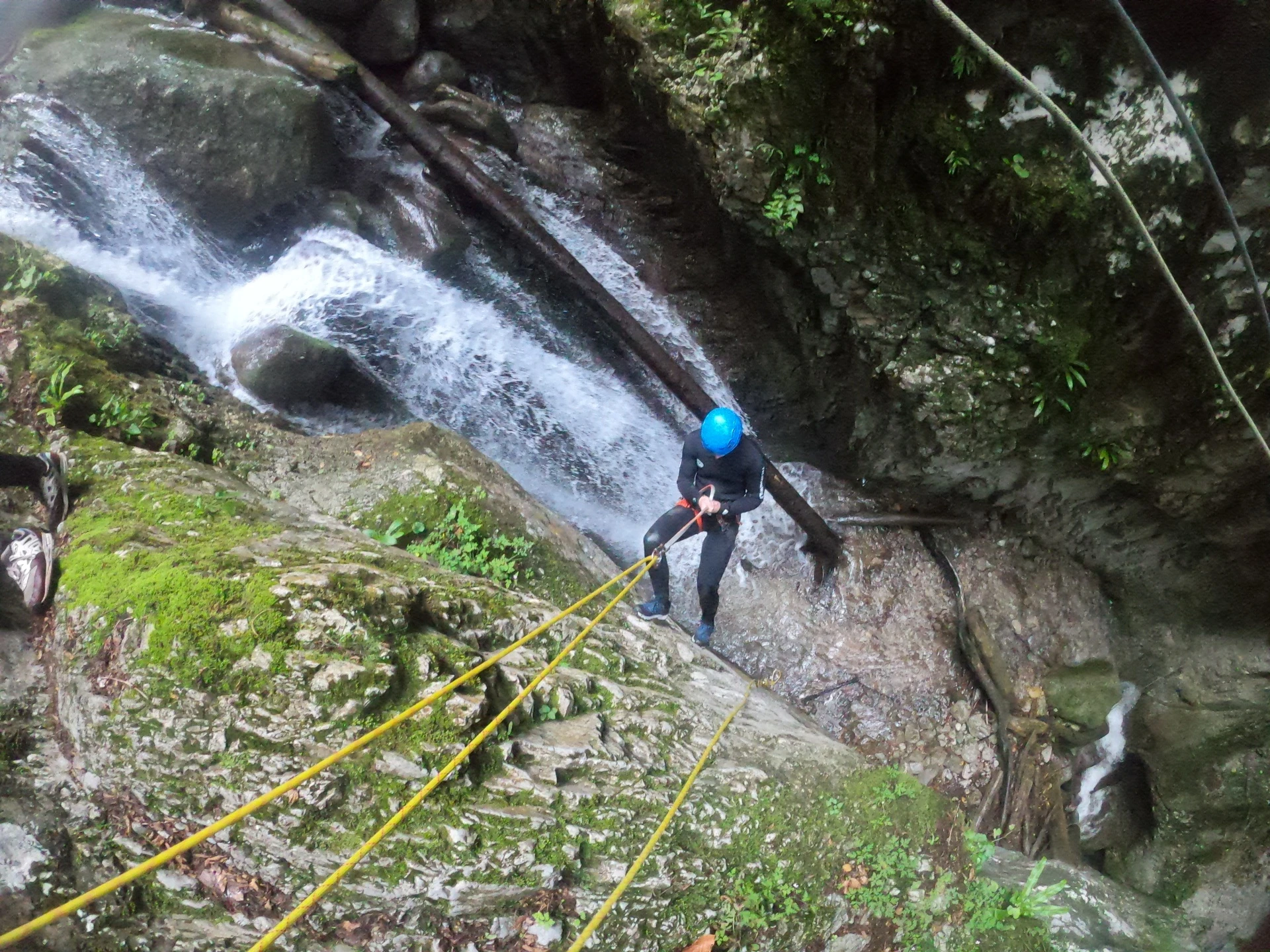 The baptism of canyoning
For those who want to try canyoning in complete safety:
- highest descent point: waterfall 20 meters
- accompanied by professional mountain guides
- an exciting experience of adrenaline and emotions!
Suitable for
bachelorette party, family, teenagers, teambuilding
Period
from May to September
Next departures
Below are the next free rounds where you can go on an adventure! I'm searching...
After a walk of about half an hour you reach the entrance of this wild point of the Brenta Dolomites. Then descend to the point of exit near the crag of Malè.
Highest descent point: waterfall 20 meters. It is the ideal canyoning route to try for the first time in complete safety this fantastic activity. Very mountaineering route. For this reason you will always be harnessed and assisted by our mountain guides Val di sole!
The personal clothing necessary for canyoning in the Dolomites consists of swimsuit, t-shirt, fleece jersey, hiking boots.
In complete safety with special harness, helmets approved and you are accompanied by our experienced guides.
Don't worry about the weather forecast! Unless special conditions, which we will evaluate together with our guides canyoning, the activity of canyoning is guaranteed even in case of rain!
Photos will be uploaded to the site after being viewed.
Frequently Asked Questions - Canyoning in Val di Sole
The appointment is scheduled to take place at our office in Dimaro at the time specified in the booking. You will be given all the necessary equipment (wetsuit, helmet and harness) once you have checked in.
The Mountain Guides will give a short theoretical lesson on safety and explain how to participate in canyoning;
Our buses will then be used to travel to the start of the activity;
After a small trek on a dirt road surrounded by the nature of our mountains, you will begin your adventure in the magical atmosphere that is the gorge;
After exploring the impressive Canyon in Val di Sole,at the exit, our bus will be waiting for you and will take you back to the base where you can access the changing rooms, change and take a hot shower, still 'fresh' from an experience that will be unforgettable!
Prices start from 70 euro upwards, and vary depending on the season and the type of activity.
We recommend canyoning to children over the age of 12 with good water skills.
It is important to participate in canyoning with expert guides or qualified instructors who know the territory well and are able to guarantee safety during the activity, just like the ones that will guide you from Trentino Wild.
Other activities that may interest you