Mountain bikes, E-Bikes and bikes for kids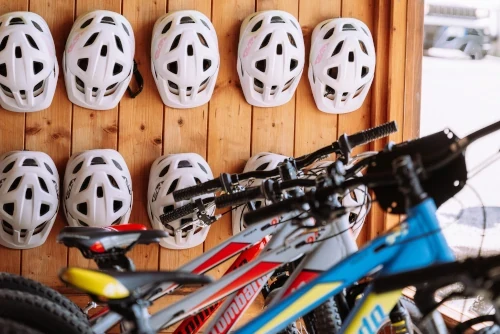 Electric bikes, front and full amortized, trolley rental for your children or child seats, to experience family adventures with varied and quality equipment.
Electric bikes and front or full amortized Mountain Bikes
Kid trailers and kid seat rental
New bike fleet every year, constantly checked
At the Bike Rent & Tour Trentino Wild Rafting Center & Outdoor
A huge bike fleet with many options is available for you.
Bikes suitable for everyone and for all needs and ages: tour around the beautiful Val di Sole, exploring the beauty of Trentino; ride our new and performing e-bikes. We also have front and full-suspension bikes, rent kid trailers or kid seats: enjoy family adventures with top-quality equipment!
Val di Sole offers a fantastic cycle path that starts at the town of Mostizzolo and goes up to Val di Pejo! On your way, there are many interesting shops and attractions. In the lowest part of the valley, you can rest at our PaintBAR in Croviana or continue to the beautiful Outdoor Center in Caldes, where you will find the Trentino Wild WildBAR, with the delicious and local Ciocomiti ice creams! 
Are you tired and don't know how to return to Trek & Bike in Dimaro? No problem, Val di Sole has the efficient "Train + bike" service: just go to one of the many train stations of Val di Sole, hop on the train with your bike and you can easily return!
We are waiting for you!
How does the, Trek & Bike Rent service work?
It's very simple, look for availability and book online your bike: