A river of adrenalin
Are you ready for an exciting and adventurous experience, to face the forces of the river and experience the adrenaline rush of the rapids? During hydrospeed, you will wear a wetsuit, helmet and fins to tackle torrents and rivers with rapid currents.
The hydrospeed board is designed to provide buoyancy and protection, allowing the swimmer to navigate through rapids, using their arms and legs to move and control direction. Book your adventure!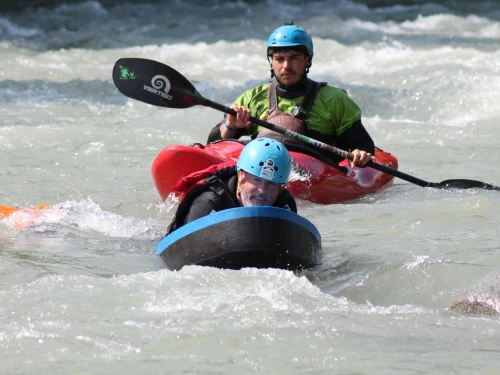 A river of adrenaline
Hydrospeed
: You and the river. Swimming in living water according to the current. Basic descent for those who want to try River Bob for the first time. Suitable for those who are not afraid of water and are looking for an experience with mediu
...
Suitable for
bachelorette party, teenagers
Duration
60' in the river; all 2 h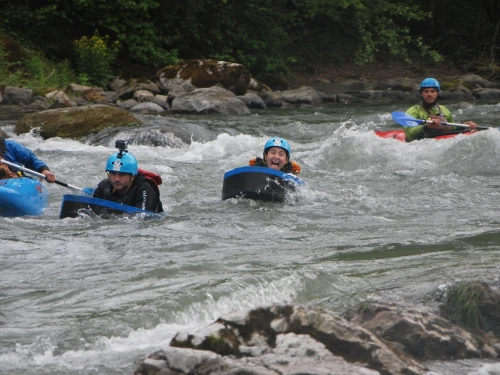 A river of pure adrenalin!
This descent is reserved for those who are in good physical condition, can swim and have already tried hydrospeed. Prerequisite... a high degree of madness!
Suitable for
family, teenagers
Duration
1'10 in the river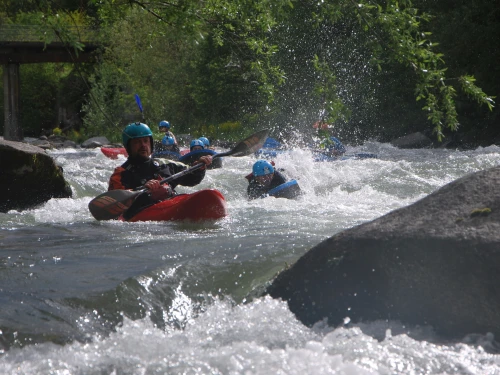 Crazy!
Hydrospeed extreme: the word says it ... top emotions for a truly adrenaline-pumping activity! Activity carried out only with those who have already experienced the hydrospeed experience. Suitable for adults.
Duration
1 h and 15' in the river


Hydrospeed in Val di Sole in Val di Sole, Trentino:
What you need to know before the experience
The unique thrill of swimming in the river in the sparkling waves of the Noce torrent.
Hydrospeed is a water sport activity that involves swimming in swift water using a hydrospeed board, also called a river bodyboard or riverboard. It is a high-impact activity and requires good swimming skills and an adequate level of fitness. It is an exciting and adventurous experience, where you can face the forces of the river and experience the adrenaline rush of the rapids.
WHAT TO BRING FROM HOME:

T-shirt or microfleece to wear under the wetsuit (which will get wet);
swimming suit
Towel/robe, slippers and change for post-activity shower.

EQUIPMENT PROVIDED:
Hydrospeed, a kind of river bob made of plastic, buoyant and durable material on which to stretch out;
fins, the same as those used in diving activities;
5mm neoprene wetsuit, complete with jacket and dungarees;
neoprene socks;
helmet;
safety lifejacket;
Be over 16 years old and have good aquatic skills.
Wetsuits, water jackets and helmets are washed and treated after use each time with disinfectant solution.
Activity is confirmed even if it rains.
At the reception you can rent an Action Cam to capture your adventures! The rental is free and an SD card is supplied with it, which must be purchased. The rental can only be made after purchasing the SD card. We will shot some photos during the activity; you will receive a link to the email left during check-in, which will allow you to see the pre-view and possibly buy the photos of your activity online!
2 shifts at 8.30 a.m. or 4 p.m., May to September.
Frequently Asked Questions - Hydrospeed in Val di Sole
The activity requires advance reservation.
Once booked, the meeting point is at the secretariat at the time indicated in the booking for registration and payment
You will then be accompanied to the changing rooms where you will be given all the necessary equipment (wetsuit, fins, life jacket and bob - hydro).
Guides will give a short theoretical lesson on dry safety and explain how to participate in hydrospeeding (how to swim, how to handle the hydrospeed, controls, etc.).
At the pre-arranged time, you will be accompanied by our minibuses to the embarkation point where, together with your guides, you will try out the first passages in live water in an easy section of the river.
From here the real hydrospeed adventure begins!
At the end of the activity, our bus will be ready to take you back to the Outdoor Centre: a hot shower and, still full of fun and adrenaline, you will be invigorated and ready for more new adventures!!!
Prices start from 55 euros for Hydrospeed Classic, up to 80 for Extreme.
We recommend hydrospeeding to young people over the age of 16 years, with good aquatic skills.
Two hours in total, with approximately one hour in the water (length of stay varies depending on the river level and the progress of the group)
As with any water activity, it is important to take the necessary precautions to ensure safety. You will practise hydrospeed under the guidance of experienced instructors and in appropriate environments, with the appropriate safety equipment. Before setting off, there is always a theoretical-practical lesson so that you can understand the activity you are undertaking and become familiar with the equipment.
The Rafting Centre Trentino Wild Val di Sole, with its locations in Dimaro and Caldes, has over 40 years' experience in organising outdoor activities and extreme sports in Trentino Alto Adige. Safety and quality always come first.