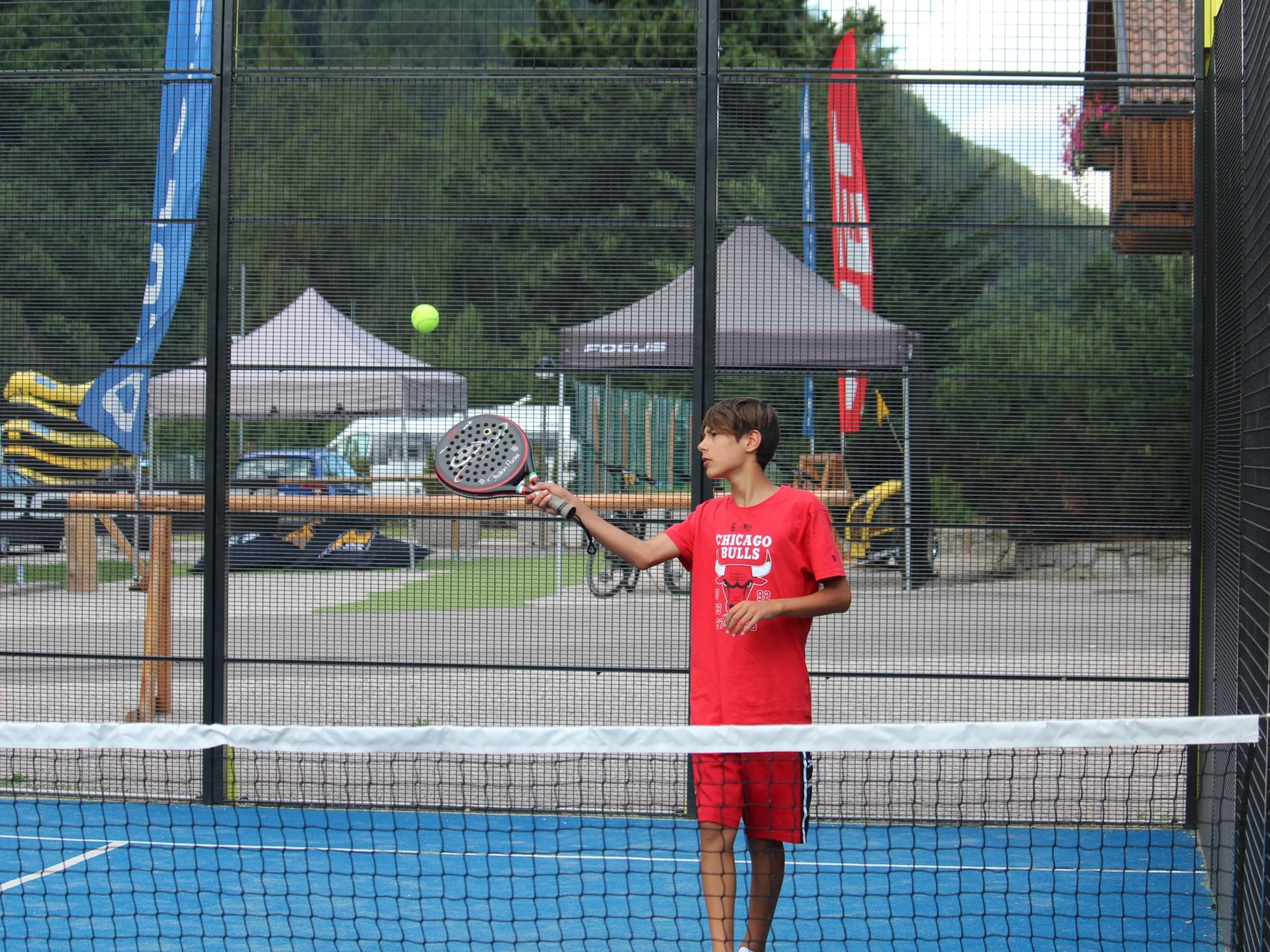 You don't need to be a professional player
Una vera e propria mania... questo grazie al fatto che ci si diverte fin da subito senza essere dei giocatori di tennis. Il campo è costruito con sabbia e erba sintetica che rende il rimbalzo della pallina ottimo, allo stesso tempo, muoversi su questa superficie evita traumi soprattutto a coloro che hanno problemi alle ginocchia o alla schiena.

Un mix tra tennis e squash, nel campo di 20 metri per 10, delimitato da appositi vetri studiati per rispondere al rimbalzo della pallina … e continuare a giocare! Racchette specifiche, pallina da tennis e boom …!! Diamo il via alle danze!
Differenze tra Padel e Padelball
- le regole sono uguali e si gioca alla stessa maniera.
- Nel padel c'è il vetro attorno al campo dove la palla rimbalza.
- Nel Padelball c'è una rete metallica rigida studiata e costruita apposta per garantire lo stesso fattore di rimbalzo quindi non cambia nulla.
- Grandezza campo: nel padel è un 20X10 nel Padelball è un 18X8 Cosa significa: che essendo 2 metri più piccolo il gioco è più dinamico e per molti più divertente.

Perchè abbiamo installato il Padelball non il Padel?
1 per la sicurezza. Avere le sponde in ferro garantisce molta più sicurezza per i giocatori che andando a sbattere potrebbero rompere il vetro e trovarsi addosso una lastra di vetro tagliente. Abbiamo visto i test, abbiamo chiesto e alla fine abbiamo valutato per un campo 100% sicuro nel tempo.
2 Il vento la nostra zona in Val di Sole presenta sempre più situazioni climatiche particolari, con forti venti che abbattono piante vedi Vaja 2018
Per questo motivo il vetro può creare troppa portanza.
3 le dimensioni vogliamo un campo nel quale si possa giocare a più attività. Il padelball è costruito per giocare a Padel, pallavolo, e anche a calcio-tennis.
Suitable for
bachelorette party, bachelorette party, family, teenagers
Period
da aprile a settembre
Next departures
Below are the next free rounds where you can go on an adventure! I'm searching...
Regole del Padeball:


Quando una coppia vince il primo punto, il punteggio è 15;
se vince il secondo punto, il punteggio è 30;
se vince il terzo punto, il punteggio è 40;
con il quarto punto si ottiene la vittoria
quando entrambe le coppie hanno lo stesso punteggio è "parità", ed il punto seguente è chiamato "vantaggio" a favore del vincitore. quindi se la stessa coppia si aggiudica anche il punto seguente si aggiudica il gioco.
Se il punto lo fa l'altra squadra si ritorna in "parità", quindi per poter vincere una squadra deve avere due punti di vantaggio
La coppia che per prima si aggiudica 6 giochi, con almeno due giochi di vantaggio, si aggiudica la partita; in caso di parità a 5 giochi, se ne debbono giocare altri due, fino a vincere per 7-5, ma se si ha parità a 6 giochi, si disputa il tie-break.
Gli incontri si disputano al meglio delle tre partite (una coppia deve vincere due partite per aggiudicarsi l'incontro).
In caso di una partita pari, se è stato concordato preventivamente, si può giocare la terza partita senza applicazione del tie-break nel caso di parità a sei giochi (partita ai vantaggi), aggiudi- candosi la partita chi conquista due giochi di differenza.


CLOTHING TO WEAR FOR PADEL:


Suitable clothing for the season and for running
Sneakers
Towel and everything you need to take a shower


EQUIPMENT PROVIDED BY THE CENTER:
Want to have fun in a group
La partita sarà sospesa in caso di forti piogge.
Da aprile a fine settembre
Frequently Asked Questions - Padelball Val di Sole


Nel padel c'è un vetro dove la palla rimbalza, nel padelball c'è una rete di ferro studiata e prodotta per garantire la stessa efficacia di rimbalzo rispetto al vetro.
La grandezza del campo: il Padel ha una grandezza di 20x10m, mentre il padelball è 18x8m. Questo rende il gioco ancora più dinamico.
Abbiamo deciso di installare il Padelball in quanto la nostra zona è molto ventosa e le pareti in vetro potevano presentare un pericolo


Other activities that may interest you