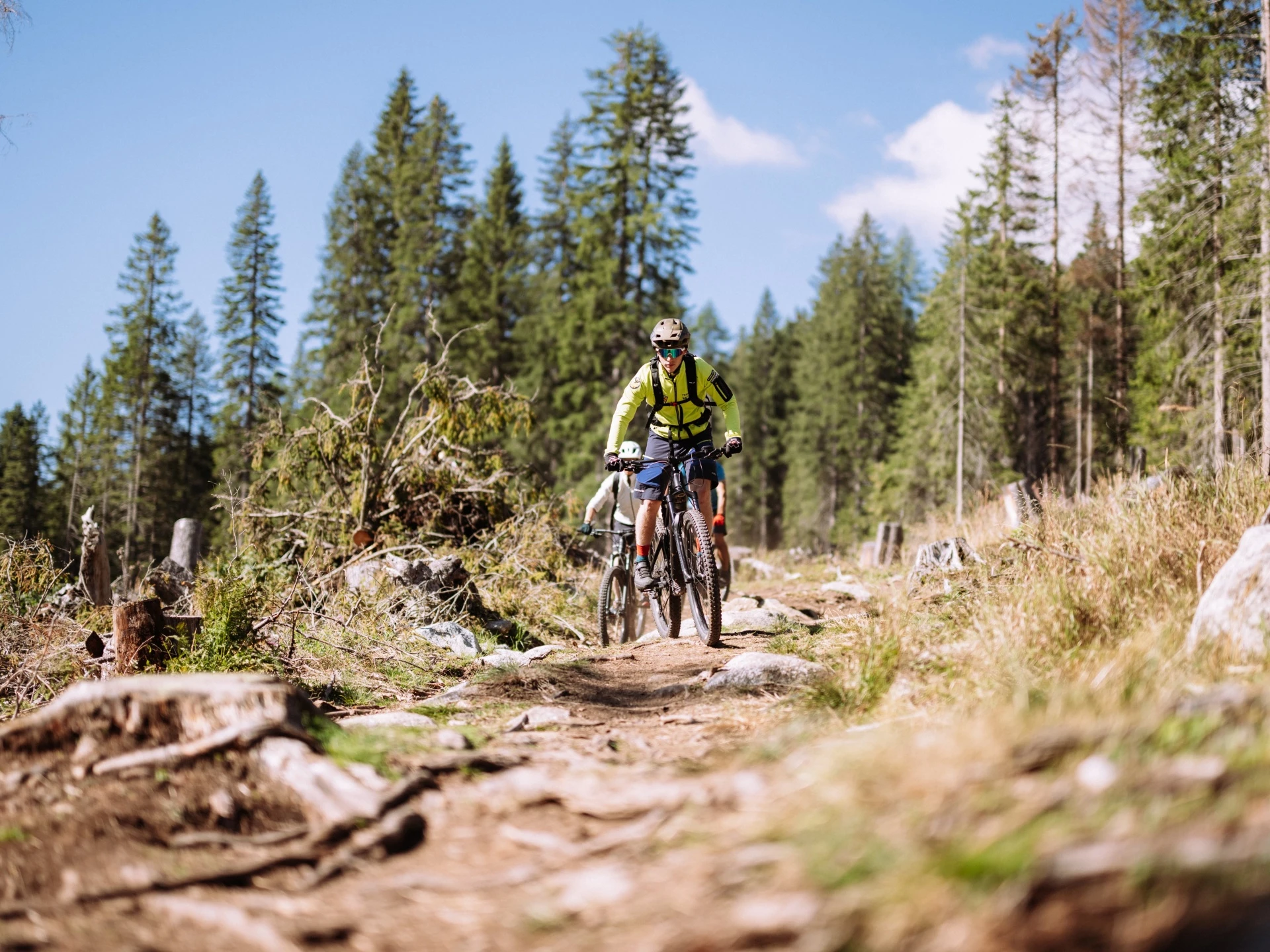 An all-round experience!
Approximately 800m of ascent and 800m of descent that will leave you speechless!

Trail does not just mean path. It represents the journey, the discovery and the thrill: from these principles we started to create this magnificent tour. An adventure immersed in the nature of the Brenta Dolomites in the unspoilt Adamello Brenta Nature Park. On board our brand new MTB e-bikes, we will set off to discover unexpected landscapes. The positive side of assisted pedalling is precisely this: we will be the privileged guests of mountain trails, which we will be able to ride along even in the most technical places ... with great satisfaction and fulfilled by a wonderful environment!

With the right knowledge from our guides and the right bike, everyone can approach this fantastic experience. We'll start right here, from setting up the bikes, taking advantage of our super-specialised workshop and our rental shop, which will provide us with the right equipment. Protections if necessary included!

Trentino Wild's Focus Wild Track will be perfect for helping you discover the secrets of off-road riding with e-bikes, and together with our guides you will learn all the secrets for tackling this top experience safely and with lots of fun.
We will ride up in Val Meledrio towards Folgarida, tackling the various trails that have made Val di Sole famous throughout the world! Once in Campo Carlo Magno, you can choose how to complete the loop, always passing through places rich in history and tradition.

Depending on the technical capabilities of the group, the descent can be along the same road as the outward journey, or through the many single tracks in the area.

Helmet and protections will be part of our set, to ensure maximum safety for all.

If you don't have your own electric bike, you can rent one of our e-bikes, which are perfect for this tour!
Suitable for
bachelorette party, teenagers, groups
Period
from May to the end of September
Book now!
Tour + E-MTB Full XL
(per altezza > 185 cm)
75.00€
Tour + E-MTB Full L
(per altezza > 175 cm)
75.00€
Tour + E-MTB Full M
(per altezza < 175 cm)
75.00€
Tour + E-MTB Full S
(per altezza < 165 cm)
75.00€
Choose date and time
Next departures
Below are the next free rounds where you can go on an adventure! I'm searching...
shorts with pad, k-way, possibly backpack
Do you want to keep a souvenir of your MTB adventures? Trentino Wild offers you the chance to rent an action cam for free (subject to purchase of the 32GB SD card), which you can take with you and film the highlights of your excursion!
Other activities that may interest you