Snowshoeing in Madonna di Campiglio
Dinner at Malga Ciocomiti (optional)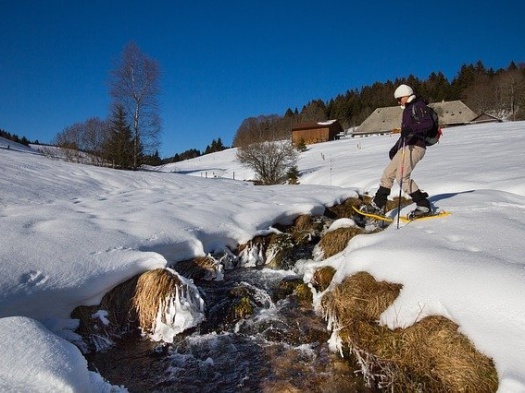 Snowshoeing in Madonna di Campiglio dinner at malga ciocomini(otional)
Adult

+18 years old

35.00€

child

10-12 years old

35.00€
Book this activity
Enchanted landscapes are waiting for us! A beautiful walk not too demanding, among the beautiful and majestic Brenta Dolomites.
The meeting is scheduled just before Passo Campo Carlo Magno at 17:00. You will recieve the equipment and will be explained the main movements to be able to walk with snowshoes on your feet.
Once ready, we start the adventure but the sun will be down by now! The guide will provide a headlamp to each participant... At night our woods become enchanted and will give you unforgettable emotions… under the white light of the moon
The easy path leads to the Malga Vigo, renamed "Malga Ciocomiti" ... Here you can taste the excellent chocolate produced in Val di Sole and processed at high altitude. Techniques and procedures give it a unique flavor and a very high quality. At the Malga Ciocomiti we have the opportunity to enjoy a typical dinner. It's consists of a first course, second course with side dish, dessert and, of course, excellent high altitude chocolate.
Dinner is an optional extra service, it requires advance booking.
How about the return? We are spoiled for choice: who do not stop for dinner they can return directly on foot with snowshoes. For who instead stop to enjoy the flavors of the Malga Ciocomiti, the return is possible by snowmobile (with a small extra contribution to be given to the Malga)..
Why rely on us
Trentino wild, the bigger outdoor center in Italy, with his headquarters in Dimaro and Caldes has over 38 years of experience in organizing outdoor activities and extreme sports in Trentino. For us Safety is always at first place.
Rely on Trentino Wild, in summer and winter, the historical professionals of outdoor and extreme sports in Trentino.
How does the snowshoeing excursion to Madonna di Campiglio with dinner at Malga Ciocomiti work?
Meeting at 17:00 along the SS239 to Madonna di Campiglio, near the entrance to Passo Campo Carlo Magno.
Meeting with the guide, presentation and delivery of technical equipment
Setup and explanation of the use of snowshoes
Start of the adventure!
Arrival at the malga
For those who have booked, dinner with menu and typical products
For those who have not booked the dinner, return with snowshoes
EQUIPMENT TO HAVE FOR THE SNOWSHOEING
ski clothing
mountain boots
gloves
waterproof and wind resistant jacket
backpack with hot beverage
EQUPMENT PROVIDED BY OUR CENTER
Informations
Period: from december to march
Adaps: from 8 years and up
Duration:about 3 hours including transport and preparation. Time for lunch is not included (optional)
You might be interested also in: