All Mountain Tour Val di Sole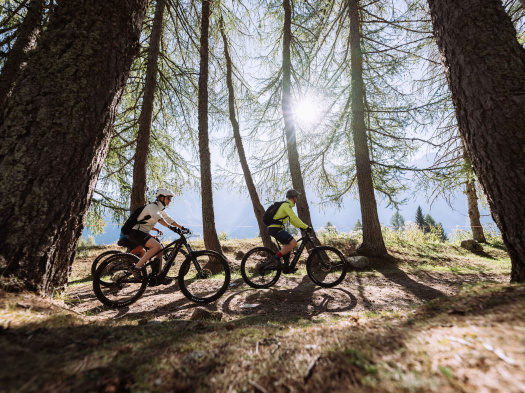 This route was born from the desire to propose to all dirt bike lovers a ring that covers the most unexplored trails that the lower Val di Sole can offer. With a short elevation gain you will move from one side of the valley to the other, passing from dirt roads to asphalt stretches, from technical climbs that, thanks to the versatile engines of our bikes, will be passable and satisfying, to descents that will make you smile.
Our guides, in addition to ensuring your safety, will be able to give you valuable guidance on how to deal with the various technical and morphological diversities along the way, while also giving you valuable anecdotes about the history of the entire valley.
The Tour starts from our base in Dimaro. You will reach the village of Carciato where the dirt road will begin, which you will leave only briefly towards the bottom of the valley where, at the height of the village of Cavizzana, crossing the famous apple orchards, you will descend from the slope of Mount Peller to climb up the opposite one; more dirt road that will get you to the foot of Val di Rabbi and will then continue to get you back to Dimaro.
The entire lower Val Di Sole seen in 360°!
If you don't have your own electric bike you can rent one of our e-mtb bikes, perfect for this tour!
How does the Val di Sole All Mountain tour activity take place?
Meet at Trentino WILD's Trek & Bike in Dimaro.
Ad hoc setup of your bike and opportunity to get familiar with our private bike track.
Start of the hike and return to base after about 3:30 hours.
Video of your activity
Do you want to keep a memory of your MTB adventures? Trentino Wild offers you the opportunity to rent an action cam for free (upon purchase of the 32GB SD card), which you can take with you and film the highlights of your tour!
Helmet and gloves will be part of our set to ensure maximum safety for everyone.
RECOMMENDED EQUIPMENT FOR E-BIKE TOUR:
Comfortable clothing, warm in spring. We recommend wearing different layers;
Comfortable trekking shoes with vibram sole or sneakers with gripping sole;
Backpack (bring a spare t-shirt and an extra layer);
Water bottle (most practical and eco-friendly container);
Spare clothes to change into, towel, slippers;
PROVIDED EQUIPMENT FOR E-BIKE TOUR:
E-Bike;
Helmet;
under hygienic helmet;
Information
Recommended time period: May through the end of September
Duration: 3,5 hours
Age: 14 years and older
You might be interested also in: