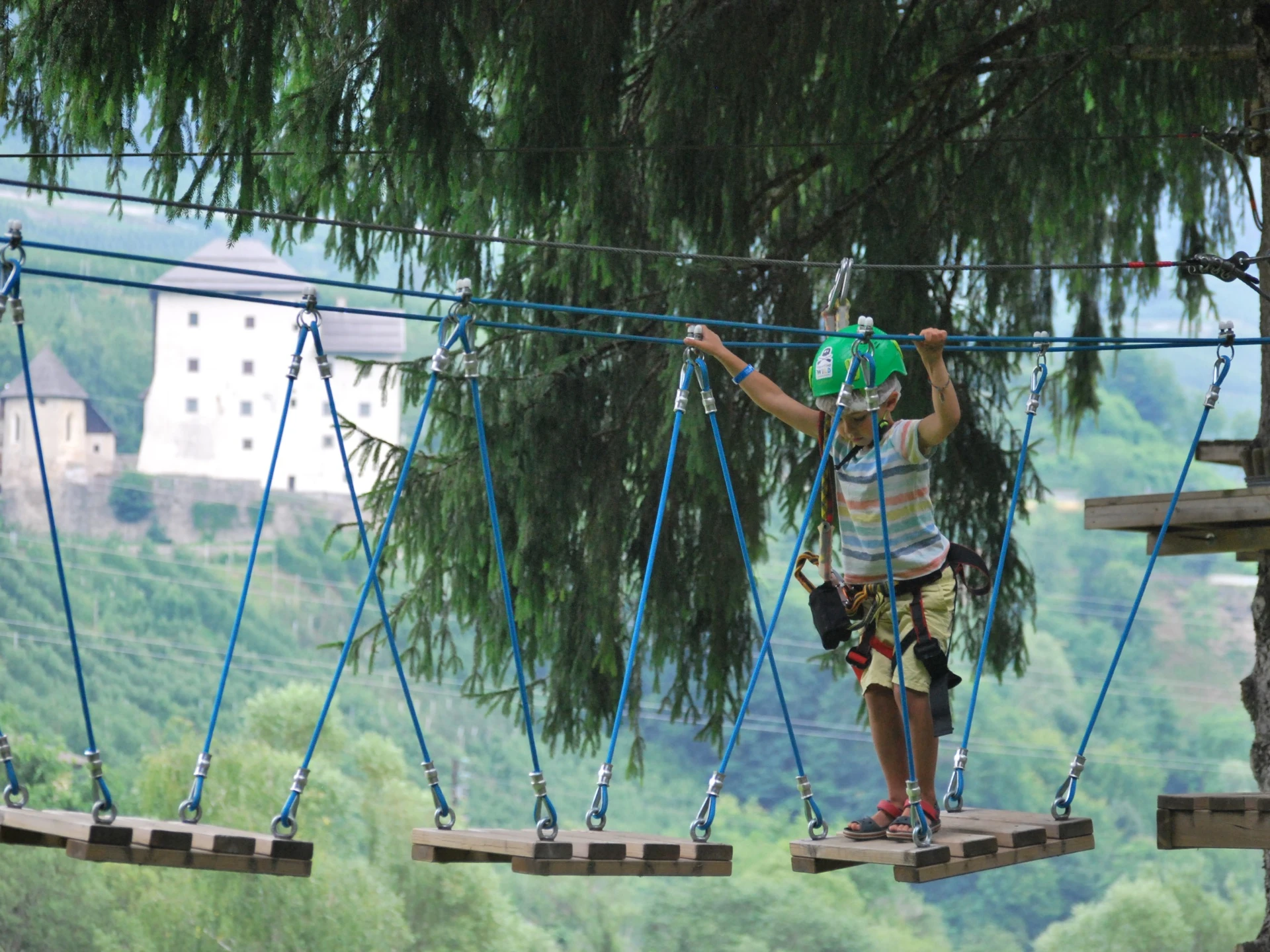 Emotions for the little ones
The Adventure Park is built completely in safety with installations in the trees, amidst the scents of resin and the foliage of our firs and larches typical of Trentino! The suspended trails are many of different heights and difficulties, allowing access for all: for children and for adults who want to experience exciting adventures among the unspoilt nature of our beautiful Val di Sole! This package is dedicated to the little ones so they can have this wonderful experience together with their family!
All children from 1.10 m to 1.20 m can experience the thrill of being suspended in the trees accompanied by an adult.
Suitable for
family, children
Period
From mid-April to mid-Semptember
Book now!
Adult
(+18 years old)
18.00€
Next departures
Below are the next free rounds where you can go on an adventure! I'm searching...
The Adventure Park is a equipped trail in the trees formed by Tibetan bridges, zip-lines, suspended walkways that allow you to experience a unforgettable day in complete security and in full respect for nature.
WHAT TO BRING FROM HOME:
Sportswear suitable for the season (we recommend clothing that can get dirty - there is a possibility of resin in the trees)
Comfortable shoes with gripping sole (trekking shoes or sneakers)
EQUIPMENT GIVEN FROM THE CENTRE:
Certified harness, with two carabiners (including a lifeline carabiner) and dissipator
Hygienic cap
Helmet
Children must be at least 1,10 mt tall; up to 1,20 mt must be accompanied by an adult.
Il Parco Avventura Trentino Wild Park di Caldes in Val di Sole, è un parco sicuro al 100%: è stato costruito con un sistema di sicurezza caratterizzato da una linea vita continua ed un moschettone che, una volta inserito, non si staccherà più fino alla fine del percorso garantendo in questo modo una completa sicurezza nell'attività!
Durante l'esperienza un membro dello staff sarà sempre presente da terra per dare le eventuali indicazioni e supporto in caso di necessità.
Il Centro Trentino Wild Val di Sole di Dimaro ha un'esperienza di oltre 42 anni nell'organizzazione di attività outdoor e sport estremi in Trentino Alto Adige.
Access to the Adventure Park is guaranteed even in case of rain, our experienced guide will always assess that the activity is carried out in total safety. In case of heavy rainfall, the activity will be suspended and rescheduled.
At the front desk you can rent an Action Cam to capture your adventures! Rental is free and an SD card is provided along with it, the purchase of which is expected. Rentals can only be made upon purchase of the SD card.
The Adventure Park is open from mid-April to mid-September
Frequently Asked Questions - Adventure park in Trentino
The adventure park is a tree trail, also known as "Albering" or "Rope Course" it consists of suspended paths (pulleys, Tibetan bridges, footbridges, tunnels, etc.) between one tree and another.
There is no need to choose the route to be taken when paying at reception. Potentially they can all be done: payment goes by the hour, not by the route.
Fun is guaranteed for adults as well, especially with the Red Black Ninja trails and the XXL Zip line!
The Adventure Park is open daily, from 9 a.m. to 5 p.m. (last access time).
The duration, which will be chosen upon acceptance, you can buy the 1-hour - 2-hour - 3-hour ticket
No you don't, the centre supply all the equipment needed for the adventure park. You just need to wear comfortable sportswear and sneakers.
Absolutely! For us, your safety comes first. Throughout the activity you will be supervised by our instructor who will explain how to use the equipment we provide you with, and once you are on the trails our guides will be ready and willing to support you throughout the experience.
Of course, all the paths in the trees are clearly visible from the ground.
Other activities that may interest you