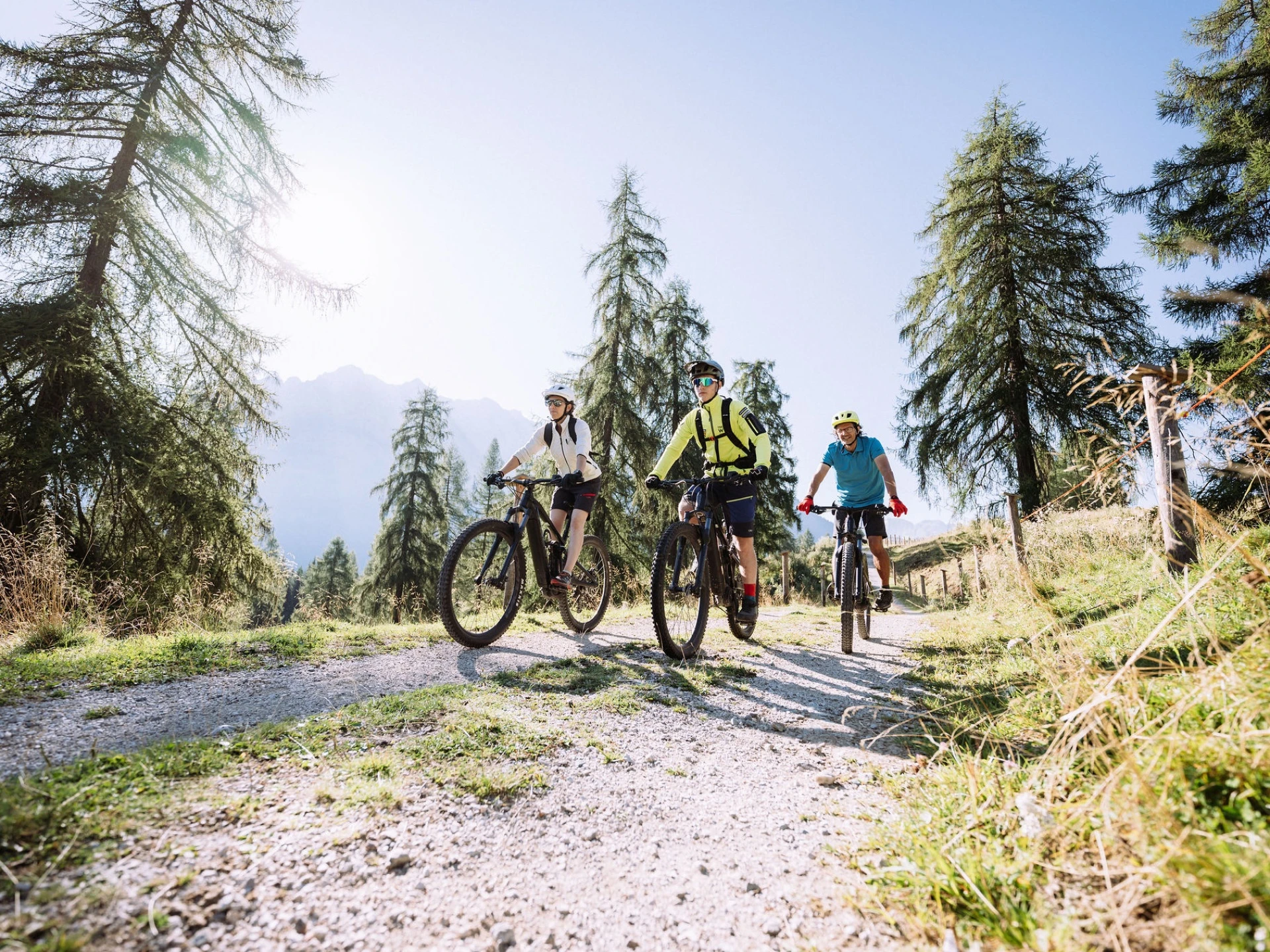 L'unione dei due mondi
Prima in bici e poi a piedi, per andare oltre...

Questa volta abbiamo avuto un'idea veramente Wild!
Uniremo la praticità delle potenti E-bike per muoverci in montagna e raggiungere luoghi difficilmente raggiungibili con altri mezzi.
Lasceremo le bici (ovviamente custodite) per poi proseguire a piedi verso la nostra meta!
Al ritorno troveremo le nostre bici pronte a riportarci a valle.

Un' esperienza unica ed esclusiva e sicuramente da provare!
Suitable for
family, teenagers, teambuilding
Length
37 km by bike + 4 km on foot
Period
da maggio a fine settembre
Book now!
Tour + E-MTB Full XL
(per altezza > 185 cm)
95.00€
Tour + E-MTB Full L
(per altezza > 175 cm)
95.00€
Tour + E-MTB Full M
(per altezza < 175 cm)
95.00€
Tour + E-MTB Full S
(per altezza < 165 cm)
95.00€
Choose date and time
Next departures
Below are the next free rounds where you can go on an adventure! I'm searching...
Ecco il percorso di questa avventura straordinaria:

Il Lago delle Malghette è un bellissimo lago naturale incastonato tra le montagne di Madonna di Campiglio, Folgarida e Marilleva.
Partiremo direttamente dal centro di Dimaro per pedalare con le nostre E-bike nella bellissima e selvaggia Val Meledrio fino a raggiungere la Baita Ciocomiti - Malga Vigo.
Ripartiremo quindi a piedi per raggiungere, con una facile e bellissima camminata immersa nel bosco, il Lago delle Malghette.

Ritorneremo poi alla Baita Ciocomiti; per chi si è già organizzato sarà il momento del pranzo al sacco oppure la possibilità di degustare alcuni prodotti tipici e di qualità… nonché il rinomato cioccolato di alta quota.
Una volta terminato il pranzo ripartiremo con le nostre bici per una incantevole discesa di oltre 900 metri di dislivello lungo la suggestiva Val Meledrio.

Non parlerete d'altro per mesi!
pantaloncini con fondello, un K-Way, eventualmente scarpe da trekking, zainetto dove poter riporre oggetti (borraccia, cambio t-shirt..)
sufficiente capacità tecnica con la MTB ed un minimo di abilità nella camminata in montagna
La sicurezza rimane in prima posizione. Una guida di media montagna e istruttore di MTB vi accompagnerà durante il tour
Other activities that may interest you