Via ferrata Bocchette Centrali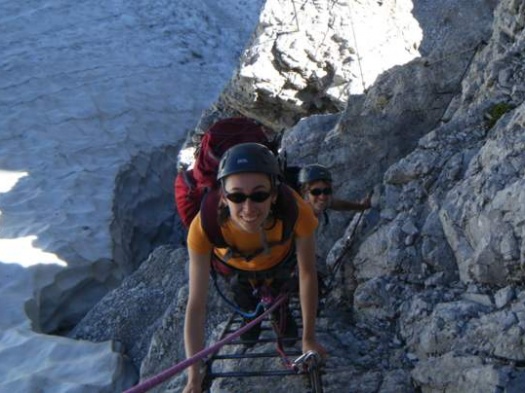 Via ferrata Bocchette Centrali in the Dolomites.
One of the most beautiful and panoramic paths, in the heart of Brenta in the presence of the highest and most famous peaks, it extends between the Bocca del Brenta and the Bocca degli Armi, with sights of the Campanil Basso and Crozzon di Brenta.
Arriving in Madonna di Campiglio, you'll take the way towards Valesinella (5 Km). After that, you'll walk for about 3 hours until the Bocca del Brenta.
After wearing the equipment, you'll start the via n.305 of Bocchette Centrali, one of the most famous vie ferrate in the Dolomites. The path is characterized by natural pitches and pitches hollowed in the rock.
The way towards the Bocca degli Armi descends through the homonymous glacier.
After crevices and overhangs, you'll reach the Rifugio Alimonta and you will then go back down through the path until Valesinella.
SUGGESTED EQUIPMENT TO BRING FOR VIA FERRATA:
Waterproof clothes, light and warm (it's suggested a first polypropylene layer, a second pile or wool layer and a third waterproof layer, such as wind jacket or goretex and trousers);
Trekking boots with vibram sole (avoid training shoes);
Gloves, hat, and changing clothes (socks, underwear…);
Backpack (the maximum weight should be 5-8 Kg);
Thermos;
First aid;
Torch, sun glasses, suntan cream;
CENTER SUPPLIED EQUIPMENT:
Via ferrata set (harness, bumper, 2 elastic cords and 2 carabiners);
Helmet;
Gloves;
Information
Recommended period: from July to mid September
Duration: 2 days. 
Suitable for: aged 18 and over with good stamina and previous experience
You might be interested also in: