Via ferrata Sosat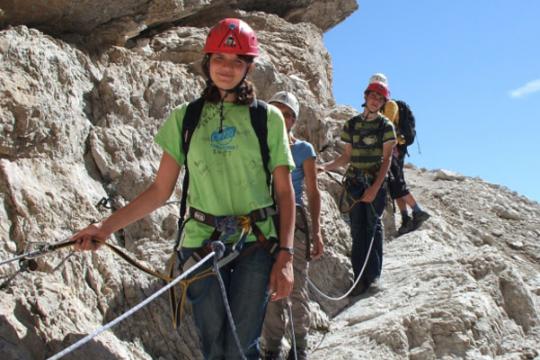 It takes place in the Brenta Group, and the starting point can be reached via cable car up to Grostè (2442 m).
You will walk and climb in the middle of the rocks, surrounded by an astonishing environment that offers a unique view over the Adamello-Presanella Group, with its glaciers and high peaks.
The climbing steps you'll face will make you experience unforgettable emotions, under the watchful eye of our trained alpine guide.
This path can be walked by all those who have some physical training (it's about 6 hours of walking and 600 meters of height difference) and don't suffer from vertigo!
SUGGESTED EQUIPMENT TO BRING FOR VIA FERRATA:
Waterproof clothes, light and warm (it's suggested a first polypropylene layer, a second pile or wool layer and a third waterproof layer, such as wind jacket or goretex and trousers);
Trekking boots with vibram sole (avoid training shoes);
Gloves, hat, and changing clothes (socks, underwear…);
Backpack (the maximum weight should be 5-8 Kg);
Thermos;
First aid;
Torch, sun glasses, suntan cream;
CENTER SUPPLIED EQUIPMENT:
Via ferrata set (harness, bumper, 2 elastic cords and 2 carabiners);
Helmet;
Gloves;
Information
Recommended period: from July to mid September
Duration: 6-8h. approx
Suitable for: aged 16 and over with good stamina
You might be interested also in: