Trekking to Malghette Lake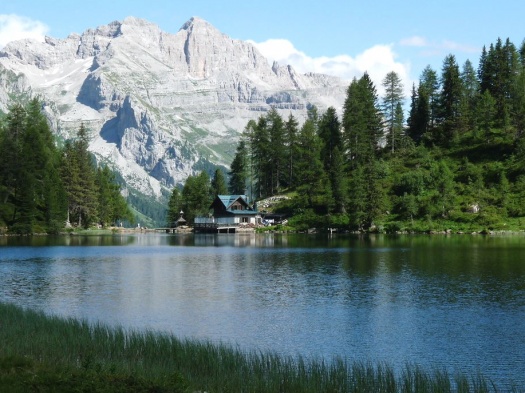 A really pleasant itinerary, among paths of spruce and rhododendrons, until we reach a splendid lake.
An excursion that will allow us to enter the heart of the Adamello Brenta Natural Park touching the 1900 meters of altitude!
meeting 9.00 am - return 1.30 pm walk in the Adamello Brenta Natural Park
1.30 pm return to Dimaro and preparation for rafting! 
Packed lunch or booking in a partner refuge 
With expert guides and local guides…. adventure! 
The trek starts from Malga di Dimaro. We will continue on the path, entering a large clearing where we will find Malga Vigo on the right.
From here you can enjoy a beautiful view of the wild and little-known peaks of northern Brenta. After passing the large clearing below Malga Vigo Ciocomiti, we will take another path that will lead us to Malghette Lake.
The lake, surrounded by a large basin surrounded by beautiful forests of fir, larch and some Swiss pine, is dominated to the west by Cima di Laste, Monte Nambino and Cima Artuick. Turning our gaze to the east we could catch the spectacular peaks of the Pietra Grande, Cima Sassara and Sasso Alto.
We will have lunch by the lake, on its most extreme shore to enjoy the amazing panorama with a packed lunch or at the partner refuge (advance booking is required). We will return from a path for the first alternative stretch, then rejoin the path made on the way up to the Malga di Dimaro.
The trekking excursion requires a minimum of physical preparation, it is suitable for children from 6 years old. You walk along comfortable and not particularly sloping paths.
The itinerary has a development of 7 km with about 250 m in altitude. Packed lunch by the lake. (or possibility of lunch in a partner refuge, by reservation)
WHAT TO BRING FOR TREKKING:
Boots
Backpack
Enough clothing
Hat and gloves
Windproof jacket
Sunglasses
Sunscreen
(If there is a night in the refuge, a sleeping bag is needed);
EQUIPMENT PROVIDED BY THE CENTER:
If necessary, the sticks will be provided by the organization
 
For people interested to rafting during the afternoon there's the opportunity to have an amazing rafting experience. Change of clothes because  and ready to fun!!
Information:
Period: from May to September
Duration: trekking meeting 9:00 am in TrentinoWILD center Dimaro  return 13:30 
Suitable for:all ages 6 and up!
You might be interested also in: