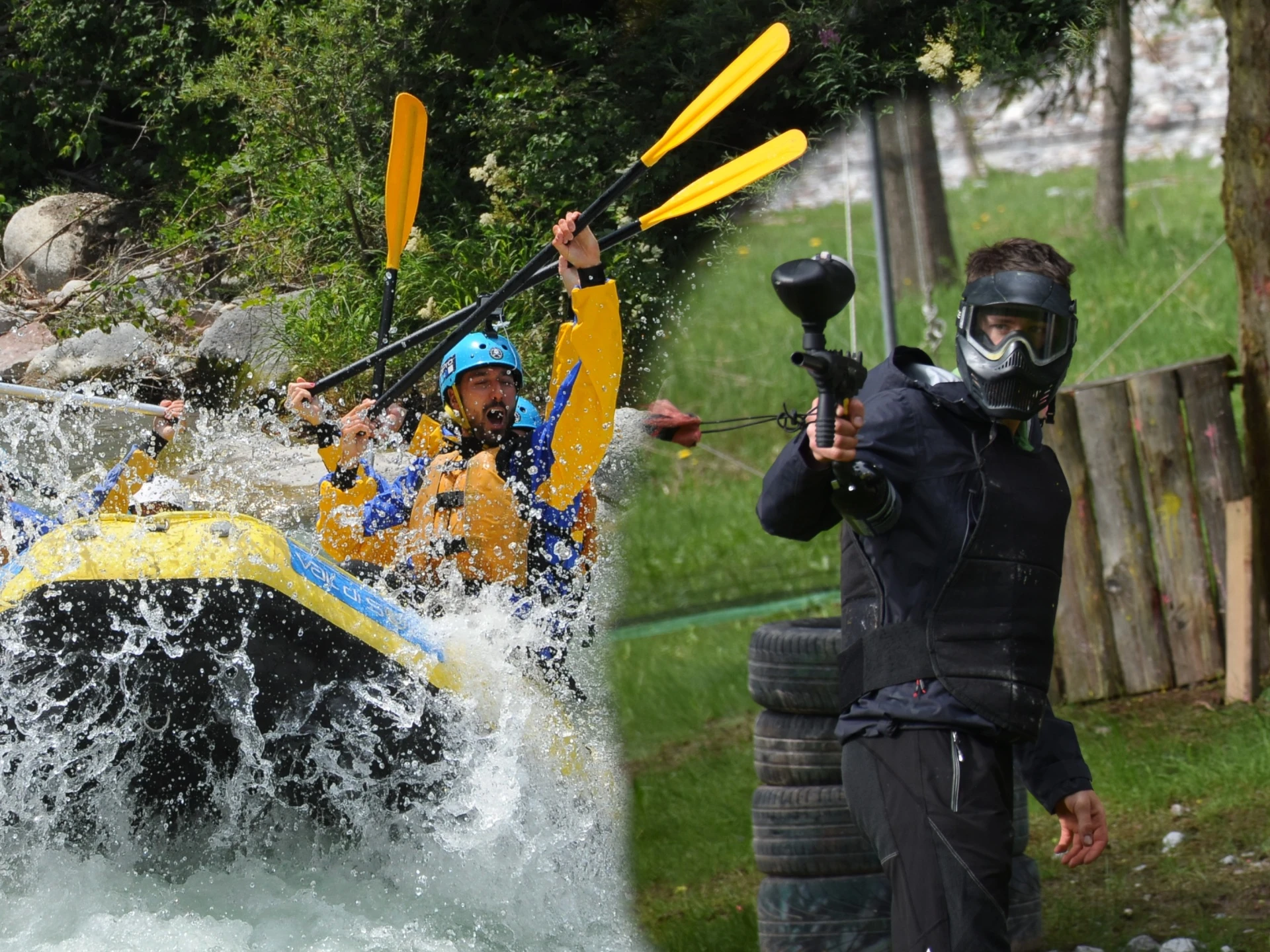 A winning combination for parties and groups!
Are you looking for ideas for a bachelor party that you can do in just one day or two weekend days? Here is a sparkling idea for an unforgettable party!

An activity package consisting of Rafting power + Paintball extreme is one of the solutions we offer for successful bachelor parties!

No particular and specific skills are required ... just a great desire to party and experience exciting activities with friends to celebrate the future groom!!
Suitable for
bachelorette party, bachelorette party, groups
Period
From April to September
We are going to see some great things! For the Rafting Power, diving, dinghy races, swimming trials and jokes will be the stars in our beautiful Noce river, so sparkling and powerful it will keep us entertained for 2 hours!

With the Paintball Extreme, in the beautiful Paint Arena of Croviana and Caldes, we will see it all!
And among the many game modes on offer ... the shoot at the groom cannot be avoided! Even better if dressed as a rabbit, teddy bear or little panda...


Not sure how to organise your dinner?

We also have a package that includes the BBQ with everything provided by us!
Preferite una Cena Tipica? Abbiamo tanti agriturismi convenzionati pronti ad accogliervi!


Party

Looking for a place to party in the evening? There is no shortage of music evenings at our partner centres and venues! Trentino Wild Rafting Center, is the center of the world for bachelor and bachelorette party, often brings many groups together ... so you can make the party ... yourself! Many festive evenings await you!
Rafting:
T-shirt or microfleece to be worn under the wetsuit;
Swimsuit to be worn under the wetsuit;
Spare trainers, they get wet;
Towel/bathrobe, slippers and change for after-activity shower;
Paintball:
long-sleeved clothing and long trousers that can get dirty
shoes suitable for running (with a good sole)
spare parts for taking a shower after the activity
li>
Rafting Power reserved for ages 16 and up!;
Paintball Extreme from 15 years old.
The Trentino Wild Val di Sole Rafting Center in Dimaro has over 40 years of experience in organizing outdoor activities and extreme sports in Trentino Alto Adige. Safety and quality always come first.
During the rafting descent there is a test of aquaticity which will allow you to test the energy of the "wild water"; a beautiful experience in complete safety as our guides will be ready and vigilant at all times on you.
All paintball equipment is inspected and secured to ensure you have a fun and safe experience.
Rafting is the best activity in rainy weather, but paintball is also possible, maybe even more fun, in rainy weather.
At the reception you can rent an Action Cam to capture your adventures! The rental is free and an SD card is supplied with it, which must be purchased. The rental can only be made after purchasing the SD card. We will shot some photos during the activity; you will receive a link to the email left during check-in, which will allow you to see the pre-view and possibly buy the photos of your activity online!
This package can be purchased from the end of April to mid-September.
Other activities that may interest you