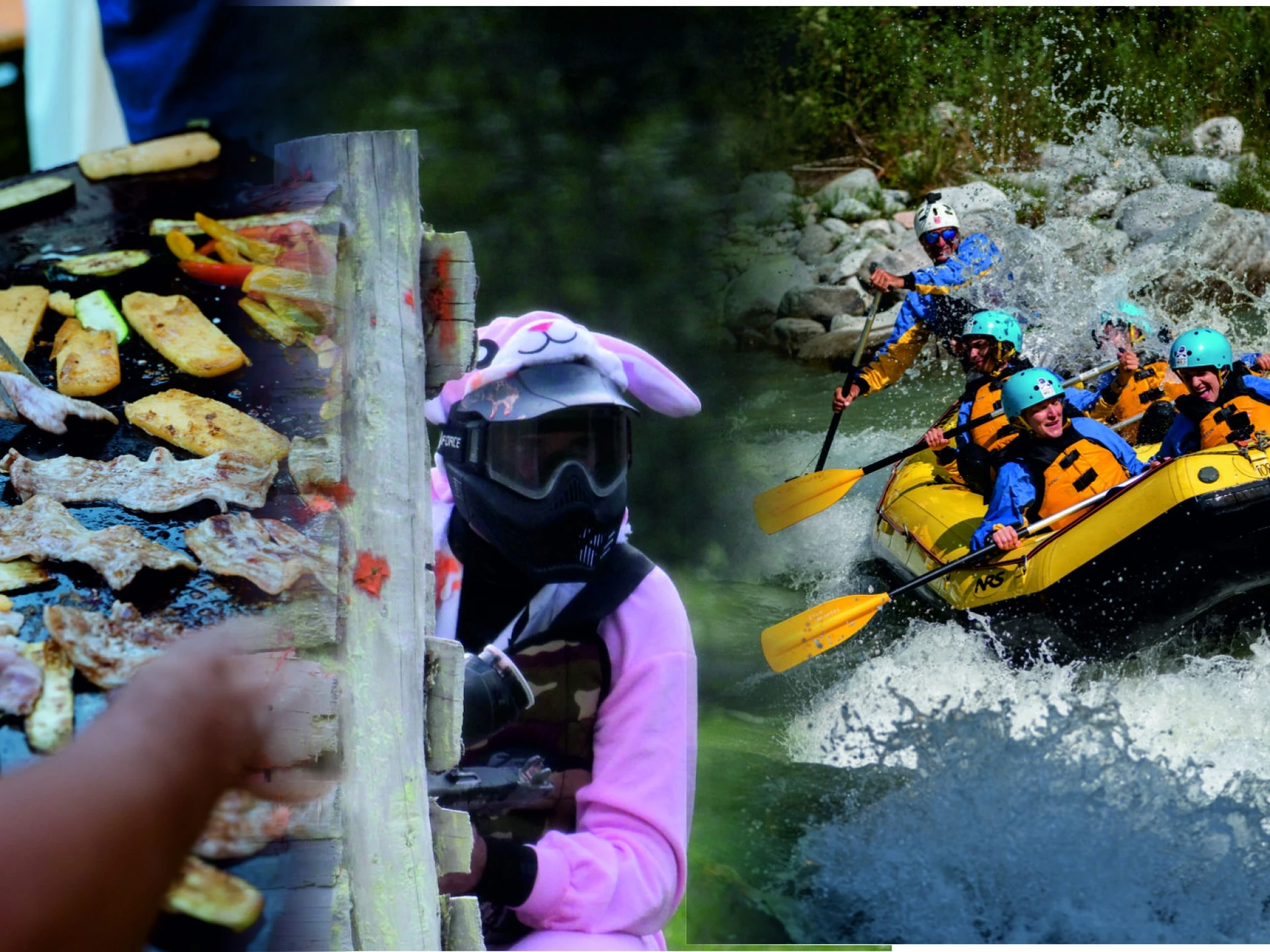 A real hangover night!
Adrenalina e buon cibo tra amici!
1 giornata oppure 2 giorni per divertirsi in compagnia, a suon di pallini colorati, onde del fiume e sapori tipici trentini! Cercate locale dove fare festa la sera? Presso i nostri Centri e locali convenzionati le serate di musica non mancano! Trentino wild rafting center, l'ombelico del mondo degli addio al celibato e nubilato, ma non solo, raduna molto spesso tanti gruppi … pertanto la festa … la potete fare voi! Tante serate di festa vi aspettano!
Suitable for
bachelorette party, bachelorette party, teambuilding
Period
From April to September
The perfect activity package: if you have long wanted to celebrate a future husband, for his bachelor party and rafting is one of the options ... we offer you this and something more!
We call it the icing on the cake ... even if salty ... after a beautiful and adrenaline-pumping power rafting experience on the Noce river, a nice barbecue with friends is the closing of the circle!
An activity pack consisting of

power rafting + Paintball + BBQ

is one of the solutions we offer for bachelor parties full of fun!
No particular and specific skills are required for the power rafting activity for a bachelor party ... just a great desire to party and experience exciting activities with friends to celebrate the future husband!! We will see some good ones! Diving, rubber dinghy competitions, swimming tests, jokes will be the protagonists in our beautiful river Noce, so sparkling and powerful that it will keep us entertained for 2 hours!!
The Paintball Extreme game follows where, we really see all the colors .... including the long-awaited Groom Hunt!
And to end on a high note, all with their legs under the tables, to enjoy an exquisite Barbecue among friends, among vegetables, delicious meat (or cheeses for vegetarians) and toast to the future husband and friendship !
Rafting:
T-shirt or microfleece to be worn under the wetsuit;
Swimsuit to be worn under the wetsuit;
Spare trainers, they get wet;
Towel/bathrobe, slippers and change for after-activity shower;
Paintball:
clothing with long sleeves and trousers that can get dirty
shoes suitable for running (with a good sole)
spare parts for taking a shower after the activity
li>
BBQ
No requirements expected!
Il centro Trentino Wild è realtà riconosciuta e certificata per la sicurezza nelle attività acquatiche dall'associazione AIPRAV (Associazione Italiana Professionisti Acqua Viva) e dalla Scuola Nazionale di Formazione Rescue Project. Attrezzatura certificata e revisionata, guide brevettate e certificate garantiscono esperienze con standard di sicurezza elevatissimi. Parliamo anche di sicurezza igienica: le mute, le giacche d'acqua ed i caschi vengono lavati e trattati dopo l'uso ogni volta con soluzione disinfettante, battericida e fungicida
Water is our element and whether it comes from the river or from the sky... it will guarantee us even more fun! All 3 activities are guaranteed even in case of rain: rafting as a water activity is the ideal choice in case of bad weather, paintball in the rain is even more adrenaline-pumping and the bbq is guaranteed, under the canopies of our structures
At the reception you can rent an Action Cam to capture your adventures! The rental is free and an SD card is supplied with it, which must be purchased. The rental can only be made after purchasing the SD card. We will shot some photos during the activity; you will receive a link to the email left during check-in, which will allow you to see the pre-view and possibly buy the photos of your activity online!
This package can be purchased from the end of April to mid-September.
Other activities that may interest you