Snowshoeing in the Dolomites - day and night
3 hour excursion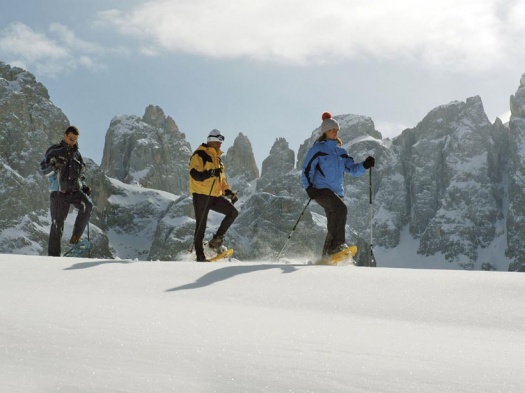 Are you looking for a snowshoeing experience in the mountains? We have a lot of of solutions for you!
From easy snowshoeing itineraries accessible even to families in Val di Sole. For those who want to do some legwork and snowshoe on the steepest slopes there are more challenging itineraries. Activities lasting about 3 hours total, including transfers and explanations on the correct handling with snowshoes.
A new way to experience the mountains, sustainable and accessible to all ... walking is the most natural activity that we have ... with snowshoes on your feet it becomes even more fun and enjoyable! You can see the snowshoe outings consulting our booking on line: snowshoe outings during the day, under the shy winter sun or on a night of full moon. You can not miss the suggestive Winter in Trentino!
Snow-covered landscapes and expanses of immaculate snow are waiting for you!
Why rely on us
Trentino wild, the bigger outdoor center in Italy, with his headquarters in Dimaro and Caldes has over 38 years of experience in organizing outdoor activities and extreme sports in Trentino. For us Safety is always at first place.
Rely on Trentino Wild, in summer and winter, the historical professionals of outdoor and extreme sports in Trentino.
How does the excursion with snowshoes work?  
meeting at the location communicated by the secretary (it's variable - depending on the itinerary)
delivery of technical equipment and meeting with the guide
moving to the parking area
arrangement and explanation of the use of snowshoes
start of the adventure!  
Return
EQUIPMENT TO HAVE FOR THE SNOWSHOEING
ski clothing
mountain boots
gloves
waterproof and wind resistant jacket
backpack with hot beverage
EQUPMENT PROVIDED BY OUR CENTER
Informations
Recommended period: December to March
Suitable for: 8 years and upwards (or 10 years depending on the itinerary)
Duration: about 3 hours including transport and preparation
You might be interested also in: