Snowshoeing in the Dolomites - day and night
3 hour excursion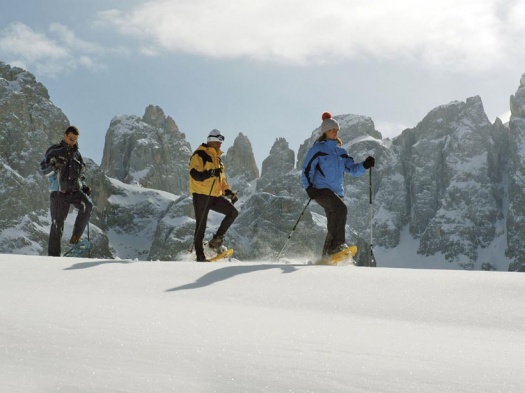 The mountains of Trentino are all to be explored even in winter! Snowshoeing of varying difficulty accessible to everyone, including families, to experience exciting and scenic rou
...
Adult

35.00€

child

6-15 years old

35.00€
Book this activity
Se siete alla ricerca di una esperienza con le ciaspole in montagna, abbiamo tantissime soluzioni per voi!
Da itinerari di ciaspole in Val di Sole facili, accessibili anche alle famiglie, a itinerari più impegnativi per chi vuole fare un po' di gamba e ciaspolare sui pendii più ripidi. Attività della durata di circa 3 ore totali, compresi gli spostamenti e le spiegazioni sulla corretta movimentazione con le ciaspole. 
Un nuovo modo di vivere la montagna, sostenibile ed accessibile a tutti … la camminata è l'attività più naturale che abbiamo … e con ai piedi delle ciaspole diventa ancora più divertente e piacevole! Consultando il nostro booking on line è possibile vedere le uscite in ciaspole che abbiamo in programma: uscite con le ciaspole di giorno, sotto il timido sole invernale e tra i sentieri battuti delle nostre bellissime montagne; oppure non potete perdervi le suggestive ciaspolate in notturna, magari in una notte di luna piena!
Paesaggi innevati e distese di manto nevoso immacolato vi aspettano! 
Why rely on us
Trentino wild, the bigger outdoor center in Italy, with his headquarters in Dimaro and Caldes has over 38 years of experience in organizing outdoor activities and extreme sports in Trentino. For us Safety is always at first place.
Rely on Trentino Wild, in summer and winter, the historical professionals of outdoor and extreme sports in Trentino.
Come funziona l'escursione con le ciaspole? 
ritrovo presso la location comunicata dalla segreteria (variabile a seconda dell'itinerario)
consegna attrezzatura tecnica e incontro con la guida
spostamento verso il punto di parcheggio 
sistemazione e spiegazione uso delle ciaspole
inizio dell'avventura! 
rientro 
EQUIPMENT TO HAVE FOR THE SNOWSHOEING
ski clothing
mountain boots
gloves
waterproof and wind resistant jacket
backpack with hot beverage
EQUPMENT PROVIDED BY OUR CENTER
snowshoes
Sticks (if necessary)
 
Informazioni
Periodo consigliato: da dicembre a marzo
Adatto a: da 8 anni in su (oppure 10 anni a seconda dell'itinerario)
Durata: circa 3 ore compresi i trasporti e la preparazione
You might be interested also in: