Ski tour to Pisgana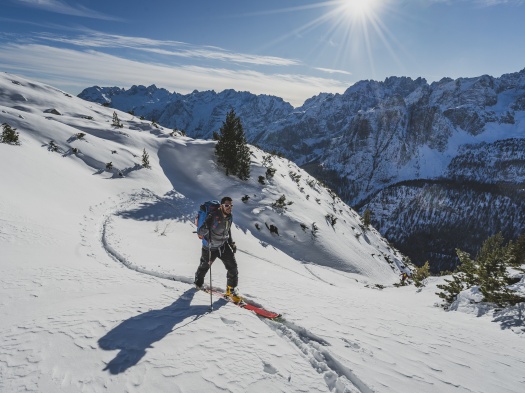 The itinerary begin and evolve along the Tonale Pass, on an accessible terrain, always in the company of our expert alpine guide!
This itinerary may be subject to the snowpack and weather conditions, so we reserve the right to always evaluate before the activity the safety conditions and possibly - if necessary - a variation of the itinerary itself.
For all outings, technical equipment is indispensable, not included in the proposal.
CLOTHING TO BRING WITH YOU FOR THE SKI MOUNTAINEERING
ARTVA - starter check with obligatory training before the start of the activity
backpack with


shovel
sensor
sealskins
thermos
gloves and beanie to change
If necessary, we will specificate other equipment for particular situations
It is possible to rent equipment by prior arrangement with the organization. We will give you the contacts where you can go to try the equipment and rent it. 
Boots, skis, snowshoes, shovel and probe. 
The amount is per person, excluding any ticket and equipment rental.
Informations
When: February 12, 2022
Meeting point: 7.30 am at Trentino WILD Dimaro
Return at 6 pm.
Bring with you backpack hot drinks, food, change of gloves and everything you need to make an ascent and descent in the mountains with ski mountaineering.
Suggested period: from December to March
Suitable for: : all those aged 18 years and over
Duration: 6 hours in total
You might be interested also in: