Inflatable Canoe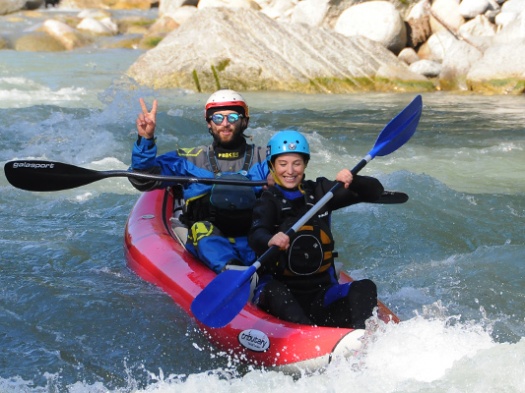 Amazing activity for all people want to try a river trip aboard an inflatable canoe, with our rafting guides and kayak instructors. It is necessary to know how to swim and have a good propensity for adventure.
You will go down Noce river, challenging the most demanding rapids to discover the energy of our stream and strong emotions and power!!
During the descent you will learn how to understand currents, weight distribution, how to enter the eddies of the river, how to make the most of the waves to cross the river and much, much more.
Trentino Wild Val di Sole Rafting Center, with its offices in Dimaro, Croviana and Caldes, has over 40 years of experience in organizing outdoor activities and extreme sports in Trentino Alto Adige, in Italy. Safety and quality always come first. Trust on Rafting Center Trentino Wild Outdoor Village, for professionalism, quality and experience in the outdoor world and extreme sports in Trentino. We are waiting for you!
How does tandem kayak classic works?
meeting in reception at the time established during the booking, for registration and payments
delivery of technical equipment, changing rooms for dressing
transfer to the boarding point with Trentino Wild vans 
practical lesson 
... beginning of the adventure!
CLOTHING TO BRING FOR PACKRAFT: (will get wet)
T-shirt or microfleece to wear under the wetsuit;
swimming costume or swimsuit to be worn under the wetsuit;
Spare sneakers- shoes that get wet;
Towel / bathrobe, slippers and a shampoo if you want to have a hot shower after each activity
EQUIPMENT PROVIDED BY RAFTING CENTER:
Certified life jacket;
Water jacket;
Long Jhon wetsuit;
Homologated helmet;
Paddle and canoe;
CLOTHING TO BRING FOR CANOE AND KAYAK: (will get wet)
T-shirt or microfleece to wear under the wetsuit;
swimming costume or swimsuit to be worn under the wetsuit;
Spare sneakers- shoes that get wet;
Towel / bathrobe, slippers and a shampoo if you want to have a hot shower after each activity
EQUIPMENT PROVIDED BY RAFTING CENTER:
Certified life jacket;
Water jacket;
Long Jhon wetsuit;
Homologated helmet;
Paddle and canoe;
Information
Wetsuits, water jackets, helmets and socks are washed and treated after each use with disinfectant solution
Recommended period: from May to September
Suitable for: people over 18
You might be interested also in: