Rafting Experience!
a compressed taste of morning energy with breakfast included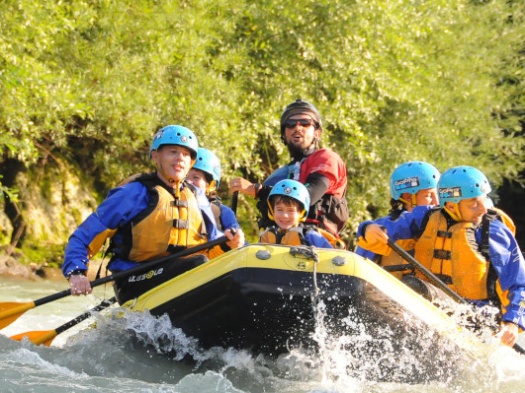 Rafting Experience
:
easy, for adults and children
Adult

+18 years old

39.00€

child

10-12 years old

39.00€

Kid

6-9 year old

39.00€
Book this activity
The first descent of the day with Rafting for Everyone!
A descent created especially for people who want to experience the thrill of rafting for the first time, ideal for families with children.
"Rafting for everyone" consists of an outing on the Noce River, in the company of our experienced rafting guides, discovering fun and adventure in complete safety!
A total of 1.5 hours among the waves of the Noce River and then on the return to the base in Caldes the ideal breakfast awaits you - a fragrant coffee or cappuccino with a brioche.
The descent with an approach to the water designed for those who want a beautiful rafting experience within everyone's reach: children, families, groups, first experiences ... a definitely fabulous river baptism!
Notes
During the rafting there will be a swimming test: a wonderful experience in complete safety, which will allow you to experience the energy of the water and experience an overwhelming emotion! Our guides will be ready at all times for you and your children during this adventure.
CLOTHING TO BRING FOR RAFTING: ( will get wet)
T-shirt or microfleece to be worn under the wetsuit;
Swimming costume or swimsuit to be worn under the wetsuit;
Spare sneakers- shoes that get wet;
Towel / bathrobe, slippers and a shampoo if you want to have a hot shower after each activity;
EQUIPMENT PROVIDED BY THE RAFTING CENTER:
Certified life jacket;
Water jacket;
Long Jhon wetsuit;
Homologated helmet;
Paddle;
Information
Wetsuits, water jackets and helmets are washed and treated after use each time with a disinfectant solution.
Best period: from April to September
Suitable for: from 6 years
You might be interested also in: