Cycle Lane Adventure - discovering the Sole valley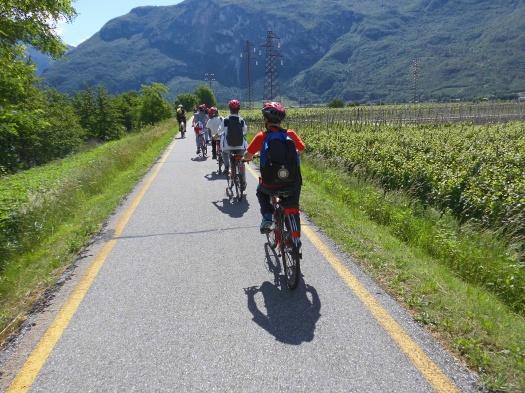 We have thought of a perfect tour to get to know Val di Sole where together with our guides you can discover corners and curiosities of the valley that only locals know.
We will ride the cycle lane from Dimaro to Caldes and back...but there will be so much more! We will go to discover the fantastic history of the Sundials of Monclassico, an outdoor art gallery with over fifty sundials. Next stop is The Kneipp Path the wellness moment at our base in Croviana! After the relaxation moment we continue on the bike path to our base in Caldes where we will take a well-deserved break with a tasty homemade ice cream inside our Wild Bar Caldes. After the ice cream moment, we leave for the return trip, but the adventure does not end here! Once back at the base in Dimaro, the final touch awaits - a minigolf game for everyone!
In short, not just bikes! You will be lucky enough to see all of our 3 bases in Val di Sole! Dimaro, Croviana and Caldes where it's all about the outdoors and nature!
A tour for everyone and for all bikes, which you can choose directly from our new super-stocked rental.
How does the "CYCLE LANE ADVENTURE" tour take place?
Meeting at the reception in Dimaro
Mountain bike guide presentation
Muscle bike rental
Technical equipment delivery and bike setup
Departure for the Tour
Stops at points of interest to learn about our beautiful Val di Sole: Monclassico, Croviana, Caldes.
Return, equipment drop off and the minigolf game!
Possibility of shower at the end of the activity
Video of your activity
Do you want to keep a memory of your MTB adventures? Trentino Wild offers you the opportunity to rent an action cam for free (upon purchase of the 32GB SD card), which you can take with you and film the highlights of your tour!
Possibility to rent trolley and child seat
RECOMMENDED EQUIPMENT FOR CYCLING MOUNTAIN BIKE:
clothing suitable for the season, sporty
backpack (in which to put a shirt and a spare shirt, a kway, etc.);
water bottle (it is the most practical and ecological container for the transport of liquids) ;)
EQUIPMENT PROVIDED FOR CYCLING MOUNTAIN BIKE:
bike (various types of choice)
helmet
Equipment the bikes and helmets are washed, treated each time they are used with disinfectant solutions and approved products against covid.
Information
Recommended time period: May through the end of September
Duration: half day
Age: 8 years and older
You might be interested also in: